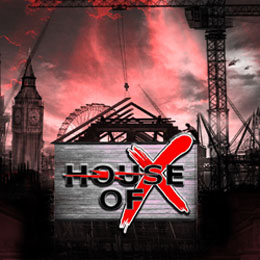 House of X features Danny Peyronel (ex UFO) on vocals, Laurence Archer (Grand Slam, Phil Lynott) on guitars and backing vocals, Clive Edwards (Wild Horses) on drums and finally Rocky Newton (Lionheart, ex MSG) on bass.  While they already have extensively been touring over the last two years, with a setlist containing lots of UFO covers, they have also been busy writing own material, which has resulted in this, their debut album.
With a history in aforementioned bands, it should not wonder you that what they bring us is classic British hard rock, with a hint of blues in it.  Most of the songs are catchy.  As a matter of fact I found this a very good album, bringing back memories to days long gone.
With such veterans in the music business, although up to know they might be relatively unknown, it is no wonder that their debut album is good, and there is not one item I do not appreciate. Listen at the guitar work by Laurence Archer on the song 'Rage', and you immediately can tell this guy is rather talented.