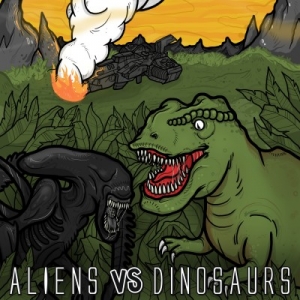 Release Date:
Monday, December 28, 2015
~~Well, misanthropy and sarcasm often go hand in hand. I think that's a good thing, because the extinction of humanity can be humorous, is it not?! This given can also be translated in a sonic concept, and that's where Aliens vs Dinosaurs enters the conversation. What if an aliensaur would invade our world in order to end (human) life? Wouldn't that be a fantastic nightmare with a bloody yet cool result, for Mater Terra would be saved from the sickness called 'humanity', and nature might reconquer its righteous throne? I'm in for some philosophical reflection…
[it's also the name (*) of some comic written by Grant Morrison and directed by Barry Sonnenfeld, who's known from the Men In Black motion pictures, but my introduction seemed cooler to me, is it not?! – (*): actually it's Dinosaurs Vs. Aliens, but the cruel reality remains the same]
But it's not time (yet) for human annihilation, so before our planet will be changed dramatically, we, the ignorant primates called 'men', might be able to enjoy a prophetic soundtrack for that end to come. It's a four-way split that lasts for almost 160 (!) minutes – indeed, more than two and a half hours of Noise / Drone / Ambient / Electronics is what you'll get – and there were 500 copies pressed in order to present the world this weird international co-operation.
The first CD is the 'Aliens' part, created by Hulduefni at first, anterior to I AM esper. Hulduefni (if I'm not mistaken, it means something like 'black matter' in Icelandic) is an outfit by Portuguese musician and producer João Nuno Simões, who also acts under the Lostsol banner. In quite a short period, this guy recorded several hands full of material, and quite a lot of it had been released on split collaborations, just like this one. This is the first release via Symbol Of Domination Productions (note: there was a compilation on parent label Satanath Records in 2013).
What Hulduefni bring is quite disturbing, probably the most confusing material on this split. The first track, Alien: The Beginning, initially combines quite doomy synth lines, weird layers of keyboard madness and shrieking guitar pingles. Quite soon a specific 'cosmic' aspect takes over the main spheres, but the frenzy identity comes to its peak as soon as those bleak, wretched growls penetrate the mixture of experimental noises and ambient soundwaves. This Post-Drone experiment might seem quite incoherent, but I feel that there's a meaning behind that desultory concept. Much more of the inherent sonic-mental escapism comes with shorter tracks like the mammoth'ian Greys Walking Through The Hangar and Parallel Dimensions, for the balance of droning guitar riffs at the background and these sharp-edged leads are more pronounced in tracks like these ones. Quite fine is the fact that, despite a total lack of structural basement (at first sight), there is a clear vision of where to go, and what to reach out for, with this 'music'. The fourth and last track, then again, called Intergalactic Space, surely is a spacy piece of aural psychotropy, totally lacking of voices and guitars – just bizarre, mentally ill synth-experiment.
Next up on the first disc are three lengthy compositions (the longest one clocking nearly half an hour) from i AM esper, a project of American musician Justin Palmieri, who started this outfit at the end of last decade. He too has been quite busy with this sonic outlet, with tens of releases on major and lesser known labels, and he did join forces with Symbol Of Domination Productions / Satanath Records before.
Anyway, this solo-project brings a symbiosis of quite tranquil and woolly dronescapes, mainly based on floating guitar waves and mesmerizing atmospheres, and asphyxiating noises and experiments. In its most virginal form, a track like Cosmic Dreams sounds dreamlike, but once you get through the different (hidden) layers, those dreams seem to be an expression of nightmare-like oppression. There's a specific repetitive background, but here too, once those layers have been dissected with precision, you might meet with a multi-facetted richness. This certainly goes for Cosmic Death I, which offers aural dimensions from different angles. Remarkable is the distinction in between the three compositions provided on Aliens vs Dinosaurs, with the extremely lengthy piece Cosmic Death II taking the lead. The droning Noise permanently evolves, going through strange passages of experiment, yet maintaining that characteristic attraction. For sure i AM esper convince, once again, with their own-faced Noise / Ambient / Drone stuff.
The second disc covers the 'Dinosaurs' part of the (hi)story, starting with four quite long (in between eight and eleven minutes) lullabies by Belarussian act Paleozoic. This solo-outfit was created by Alexander Kubishkin, whom I had not heard of before. I think it might the first official stuff released under the Paleozoic moniker.
The reverbed Ambient Drone from Paleozoic is quite haunting and oppressive, notwithstanding the somewhat minimal execution of synths and guitars. I truly adore that creepy, horrific atmosphere, for it accompanies your consciousness towards scarifying yet quite beautiful dimensions of the mind; spiritual dimensions you have not visited yet. The obscurity is of a mostly abyssal kind, but then again it lacks of malignancy – rather it is introspective, constructing an immense vastness, an elaborate field of nothingness defined by little monotone grievous sounds. Monotone, dear reader, has nothing to do with dullness or boredom in this case – let's be sure about that. I refer to 'monotone' to define the ease of creating one-directional noises with one result: grandiose and monolithic majesty with a hypnotic result. Seriously, I hope this project will come up with more material soon; this cannot be, this might not be, an occasional project.
The double-album ends with seven pieces written and performed by some guy known as Aleksey Korolyov. Did you ever hear of this guy – neither did I… (figurative smiley added…). No, seriously, Aleksey is the one who runs Satanath Records and Symbol Of Domination Productions, and the same guy who's involved with Abigorum too (note: on January 26th 2017 I did publish a review for the split with Cryostasium, in case you're interested), and under the Satanath moniker he released some excellent material before on his own labels.
Satanath's creations go on in the vein of the last recording, being a mixture of Dark Ambient and Ritual Drone, performed with a huge dose of horrific grimness and quite some electronic experimentation. There is quite a lot to undergo, with every track penetrated by diverse layers, multiple changes in structures, and lots of additional injections whatsoever. The main difference with older stuff is probably the fewer 'spacelike' adventures, for the electronic-cosmic aspects made room for more depth, darkness and psychic asphyxiation. But it's not completely gone – listen for example to pieces like mysterious Um Moktud, which even covers fragments of IDM, or Darrlao, with its psychedelic approach. Satanath focus on deeper aspects of the mind, the will, the realisation of 'we' being part of the 'all' (if you don't believe me, I will repeat it over and over again), and that is sort of confusing. But in its final execution, it sounds so breath-taking, partly because of the lack of industrialised elements (the most remarkable difference with any former material, I guess).
The four solo-projects involved on this split are quite differing from each other, so there will certainly be at least one of them that you might appreciate. But I am pretty sure that every soul whose eardrums can be satisfied by Space Ambient / Minimal / Post Drone / Experimental / Ritual Noise / Dark Ambient / Electronic Music will adore this conceptual long player.