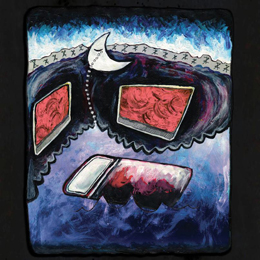 Album Title:
The Moon Rang Like A Bell
My first thought when I listened to this band's sophomore full-length was "Whàt kind of freaking weird thing is THIS?"! A sound drenched in electronics without any apparent guitar in the mix at all, and the wackiest of vocal signatures I've ever head...I decided there and then to not listen again until I had been able to get some info on the band (something which the label completely omitted to provide me with : the info sheet only gives data on the release, and the tracks held within!).
After learning that the lead singer is actually a lady by the name of Nicole Miglis (besides singing, she also pays some keyboards, and occasionally handles the flute), I took a completely different view on the package, and started listening to the offering with that knowledge in mind. Meanwhile, I'd also learned that there is indeed sóme guitar being played by Paul Giese and Trayer Tryon, whose main "instrument" however seems to be the use of electronics, which makes me wonder about the degree of manipulation they perform on their guitars' sounds (because an actual guitar sound is still as illusive to me now). Completing the line-up, is drummer Zach Tetreault, whom occasionally adds some backing vocals as well. It would seem, that the guys (minus the doll, see?) knew each other and performed in several bands while at grade school, and started playing as a foursome including Minglis, while attending Gainesville's University Of Florida. Originally, the band was a five-some with Levek's frontman David Leveque, but after returning from an East Coast tour in Spring 2011 the latter took time off to work on new material to focus on solo stuff, and the act "disbanded" there. After some internal re-arrangements, Hundred Waters (henceforth mentioned by its initials) was officially founded in October of that same year.
Success came quite swiftly to the foursome. Having honed their first set-list well in the days prior to the band's official foundation, they already released their self-titled debut album through the Elestial Sound imprint in March of 2012, gained a good reception by the media, and in August of that same year became the first band to sign to Skrillex's OWSLA record label (for those not in the know, Skrillex is the "alter ego" name of the Grammy Award winning producer Sonny Moore; it is also the name of his band). The label not only immediately released the band's first EP, the 6-track Thristle (Remixes), but also took the band on Skrillex's Full Flex Express Canadian Train Tour (featuring Skrillex, Diplo, Grimes, Pretty Lights, KOAN Sound, and Tokimonsta), and in late September it re-issued the band's debut album for a wider distribution. Further successes were achieved with HW being named as one of Stereogum's 40 Best New Bands of 2012, and being the subject of a documentary shot by potato.TV (featuring their final performance on the tour in support of The xx, filmed at the Greek Theatre in Berkeley, California). Last but not least detail: the album debuted in the Top 50 of the CMJ Radio charts, gaining the band an ever-growing fanbase among college-aged listeners. The band has since gone on to tour extensively throughout North-America and Europe, tagging along with the likes of Alt-J, The xx, Jullia Holter, and Braids, among other acts. In late March, 2013, OWSLA issued a second EP, the 6-track Boreal (Remixes) (the remixes performed by 6 different people than on the first EP). In between, videos for no less than 3 music videos were releases. Which brings me full-circle to the album at hand (note: info above culled from the band's page on Wikipedia).
To describe the band's sound is indeed a difficult thing. Part acoustics (piano and drums) and mostly electronics (on all ingredients of the music including, so it seems, occasionally on the vocals), the overall mood is rather demure and laid-back, and with changing layers of complexity (at some moments all you get is vocals, at other you'll only get percussion on top of that, and for the most part there's intriguing layers). Stylistically speaking, the vocals vary from being whispered, to a slightly moaning type of singing. Put them together, knowing what you know about the band now, and a viewing of the band's videos at YouTube (a new music clip has already been released for the album's track "Cavity", by the way) will put things in their place for sure. Apparently, the band's musical influences range from '60s British Art Rock, to Norwegian Jazz, and artists such as Steve Reich, Joni Mitchell, The Mars Volta, and Radiohead. Among comparisons metioned in the media before, I will cite the likes of Björk, Braids, Animal Collective, Dirty Projectors, and Four Tet. Some reviewers have commented on the blending of Folk and electronics, and some of 'em came up with the term "Folktronica"! At the "Timeline" part of the band's page at facebook page (www.) facebook.com/hundredwaters, you'll find even more videos (some live, some for songs on this album), and liking the page will be enough to allow you to download the track "Cavity". Also on that same page, links to several music outlets from where to at least stream the album (and older material), providing the individual sites' terms and conditions.
Like what you've heard, and wanna witness the band in action? That's in the realm of possibilities, because HW starts out on a European tour this September 30! First date is at Brussel's AB Club, so you may have to hurry to get a ticket...if any are still available, that is! The band then moves on to Germany via Amsterdam's Paradiso, before doin' several shows in Swizerland. After one-off shows in Austria and France, HW also performs a total of 8 shows throughout the UK (not including N-Ireland), before heading back home and preparing for another US tour.
Meanwhile, "End Conclusion" time's come around, and would you know, I've grown só into the sound this band creates, I cannot for the life of me imagine nót including The Moon Rang Like A Bell into my 2014 year-lists! I mean...so there's no "normal" guitar sounds involved, but what this foursome comes up with is só original, that any true music fan cannot but confirm that here's genius at work!