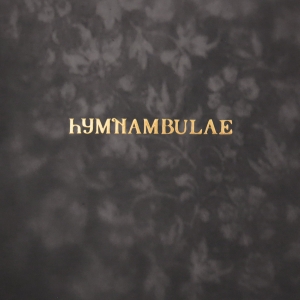 I recognize Pär Boström's name from the (great) Cities Last Broadcast project (expect a review on The Humming Tapes, released via Simon Heath's Cryo Chamber label, in a very near future). But apparently he and his twin sister, Åsa, have a mutual project going on as well, called Hymnambulae, as well as a new label, Hypnagoga Press. Via their own label, Hymnambulae release the digifile album Orgelhuset, which comes in an edition of 800 copies, including a thirty-two page (!) booklet, in a slipcase with gold embossed letters.
Anyway, the siblings did record the material for Orgelhuset in 2015 with session assistance of Sergey Gabbasov, featuring on flutes. The intention of the album was to create a sonic translation of 'a mythological house between worlds, a ceremony taking place', based on the symbolism that characterises both members' conviction. They did succeed to create that vision, that atmosphere!
Orgelhuset mainly consists of hypnotic soundwaves, floating and mesmerizing melodies that are both meditative as well as oppressive. There's an enormous ominous feeling, as if it was the intention to search for the perfected symbiosis of uneasy discomfort at the one hand, yet warm, transcendental elegance at the other too. Once again the result is quite successful!
Despite an initial minimalism, there is such richness going on. Pieces like the opening title track or the ominous piece Polarsidan show the duo's most plain and minimal approach on the most beautiful aspects of the Dark Ambient scene, why tracks like the esoteric-evocative and semi-shamanistic Bära Fram Solen, the semi-ethnic and highly-mesmerizing creation Sandcornen, or semi-hypnotic Ett Ord Från Öknen are much more mysterious, mystic and magic in essence. Compositions like Vitsidan, then again, come with a rather melancholic or introvert character, but in each case it fits to the totality, the whole experience that is called Orgelhuset.