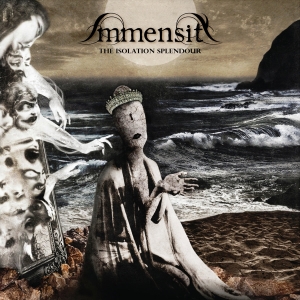 On March 21st 2016, a partnership of Hypnotic Dirge Records and BadMoodMan Music (a side-label of Solitude Productions) resulted in the release of two albums: Cold Redrafted by Negative Voice (the review was published on July 4th 2016 – for the review, just enter the band's name in the 'search'-tab) and Immensity's debut The Isolation Splendour. Both releases are somewhat comparable in approach, so pay attention!
Immensity were formed in 2009 in the city of Athens by Andreas Kelekis, and in mean time he got joined by former and current (permanent and session) members of e.g. Daylight Misery, While Heaven Wept and Fortress Under Siege, amongst others. There was a demo recording in Spring 2012, lovely called The Lonely Aquarelle (both tracks have been remastered for this album specifically), and now, as mentioned before, the band did record their first studio full length album, called The Isolation Splendour, which has a total running time of about sixty-seven minutes.
The lengthy tracks stand for quite traditional Doom-Death, including about all elements that characterise the international scene. The base of the songs is built around highly melodious guitar parts, including the typifying twin melodies, and a very heavy, prominently present rhythm section, with pounding bass lines and crafted drum-work. This totally lacks of any form of reinvention, but I'd rather label it as some tribute to the timelessness of this specific scene. Also the atmospheric keyboards, especially on the background yet of non-underestimate importance, and the acoustic and semi-acoustic passages strengthen the pay-honour-to-the-scene attitude. On top of it, the grunts are like they use to be: very deep and growling. Here too these grunts interfere with clean vocals and some spoken words. The universal timelessness, by the way, gets defined as well by the fine equilibrium in between old styled basic structures (cf. the melodies and rhythms) and a progressive twist that inject this material more than once. With progression I am not, I repeat: not, talking about some Prog-Metal approach, but rather the modernistic elements that sort of colour this pale material.
The Isolation Splendour has become quite an emotional, even melancho-dramatic and semi-gothic album with a specific theatrical and cinematic spine. You feel the despair, the grief, the sadness and pain defined by the seven compositions that make this album. That's cool, for the heaviness of the main part (when referring to the instrumentation and grunts especially) and that deep-thought atmospheric splendour are performed within a well-balanced result. All this gets pronounced even sharper by the production. And that might be my main concern (though I need to admit that this isn't but my personal opinion): the sound quality is too goody-goody, too well-polished. I would have experienced a rougher sound, little more brutal and dirty – not primitively grim and noisy, just somewhat less clean / clinical.
The elder songs, the ones written a couple of years ago, are heavier and less complex, while the newer ones come with a sophisticated craftsmanship that surmounts superficiality and that avoid any lack of inspiration. Therefor I think, but here too I am but giving my own impression, that this album is the best out of the two releases done in that higher-mentioned partnership (cf. both labels involved – see first paragraph). This stuff is recommended if you can appreciate stuff à la October Tide, Daylight Dies, Insomnium, Novembers Doom, Katatonia, In Mourning, Pantheist and the likes.