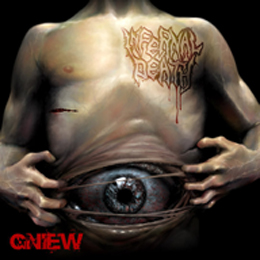 Release Date:
Sunday, February 10, 2013
The Polish band Infernal Death recorded Gniew at Hellsaw Studio with Pawel Bogaczewicz, the band's drummer, in 2010 and 2011. With this album, completely 'sung' in their home country's native tongue, the quintet brings a form of very down-earthed, primal Death Metal with a splendid equilibrium in between blasting eruptions and totally decelerated parts, breathing a purest feeling of Old School, with, of course, a certain Polish oriented spirit. Remarkable, however, is that Infernal Death do not play their Death Metal the usual, expected (read: predictable) Polish way. On the contrary; this band, in most aspects, does sound eighties (the band was actually active as from the very, very early nineties; Gniew sort of is their comeback-album), yet at the same time they do sound borderless. Grave, Morbid Angel, Morgoth, Suffocation, Impending Doom and, for sure, Vader of course; it's just a fast sum of points of recognition. Not just 'another Dies Irae / Decapitated / Behemoth / Yattering / …-clone' this time, but a band with an own face, an own approach, even though the Vader-elements cannot be ignored / denied at all.
Gniew, actually, was self-released in Poland in 2011, but this edition, provided by WM Psycho, comes with the band's 1991-demo tape Twilight Tales as bonus. Short reaction about this addition: WTF? A mostly crappy sound, so unfortunately no value at all. Skip the crap! The score goes for the comeback album, not for the demo (beware: fantastic songs for sure on the demo, yet that totally inferior sound just sucks!).