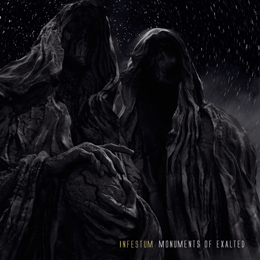 The scene from Belarus might not be as 'big' as the one from neighbours like Russia, Poland and Ukraine (and even the Baltic states), but there are quite some impressive bands out there. One of the older ones is Infestum, which were formed fifteen years ago actually. This band consists of very experienced musicians, involved with other 'notorious' Belarussian bands, such as ID:Vision or Exist M.
In the past, this band recorded and released some mini and full albums, and during Autumn / Winter 2013-2014, they recorded their third full length studio album, Monuments Of Exalted, which was originally self-released in early 2014 the digital way. Somewhat later, some labels wanted to release this stuff on CD the decent way, i.e. with a proper distribution, amongst whom Lacerated Enemy Records from the Czech Republic. They are especially 'specialized' in massive Death Metal, which makes this band an odd signing.
Monuments Of Exalted brings over fifty minutes of dark, obscure Black Metal of a mostly intense, modernistic and industrialized kind. It's fast and energetic, little grooving, and filled with electronic-cosmic and industrial elements, and influences from Post-Black and Death Metal. Sometimes (more than once) it does remind me to the earlier works of Aborym, Blacklodge, Trollheim's Grott and Ephel Duath, then again it's rather influenced by the deadened likes of Zyklon and Behemoth, based on the harsh Post-mentality of Dark Fortress or Vesania, or inspired by the grotesquery of DHG and Thorns.
Despite the mechanical approach, I sort of like this stuff a lot. There are many elements to keep this journey interesting whole the time, and the electronized elements never irritate (which isn't that evident). Every single detail has been keened out with attention for perfection, showing cohesion and craftsmanship. Besides, some slower moments, like the title track or Temples Of Mirrors, bring a nice counterpart to the intensive heaviness of the blasting majority, and a creepy piano intermezzo like The Art Of The Beast gives you the opportunity to breathe again, and not at all at the same time. Also the band's interpretation of Venom's The Evil One has been done with a very own vision, once again showing this band's self-created identity.
Infestum perform a futuristic kind of (Black) Metal with an own identity, and actually they might surprise the audience with their eccentric ideas. With this album, Monuments Of Exalted, they might have created a bridge in between the tradition of Extreme Metal and the Post-scene. This specific edition comes with two bonus 'songs', re-interpreted mixes of the track Renaissance, the Displacer Remix in a Dark-EBM vein, and the Sunao Inami Remix, which is rather of the Ultra-Trance-Electro movement. It's up to you if those additions are a surplus, then again an irritating waste of time. My opinion does not matter right here, right now, for the final score goes for the ten original tracks of Monuments Of Exalted.