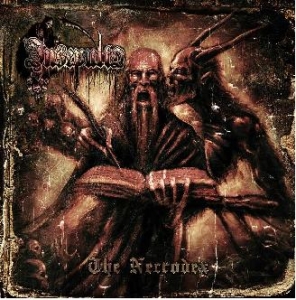 Insepulto are an act from Costa Rica (of all places) that were formed during the first half of the nineties. However, back then they did not mean something important, maybe with exception within the local scene. They did split up, but in 2008 Insepulto reformed, and in 2012 the band did release a first album, called Morbid Spawn Of Resurrection via Wydawnictwo Muzyczne Psycho from Poland. In mean time the trio (bass player Gilbert 'U.Xerxes.H.' Miranda, vocalist Ronald 'The Master Butcher' Jimenez, and guitar player / drum programmer Alfonso 'A.P.' Perez, who wrote all music and lyrics too) recorded a new piece, and they were able to sign to no one else but Spanish top-label Memento Mori! Congratulations…
This second album was recorded with the very same line-up, sharing a member with Paganus Doctrina (Gilbert), a Black Metal outfit which I wrote a review for very recently: Omnipotense Aeternae Diabolous – check it out on this week's December 22nd's update. Everything was recorded at the Halo Noir Studio, mixed at Noiselab, and mastered at the (famous) Moontower Studios (think: Nominon, Graveyard, Horrified etc.). The Necrodex lasts for about fifty minutes and comes with fine artwork.
And as from the opening song Return Of The Impious we (and with 'we' I do really mean every single attentive listener) do enjoy quite a remarkable form of Aural Obscurity. This track starts with a scarifying introduction (though unfortunately it cannot convince undersigned, but that isn't but a subjective, personal point of view listen). But then everything starts to make sense. Insepulto are Old School. Insepulto are Death Metal. Insepulto are blackened, morbid, as well as timeless and universal. Insepulto are the definition of some specific currents from the nineties, with the North American one coming to mind especially, mixed with elements from the Polish, Dutch and German scene. And let's not forget the Swedish, Finnish, Belgian, Greek, Italian and Afghani one…
No, seriously, what this Costa Rican trio brings indeed is an expression of fierce and fast, energetic and technical old styled Death Metal with a mostly morbid, sinister and obscure sound and execution. For the better part, the whole is based on rather typifying structures and riffs, yet injected with quite cool leads, classically skilled solos and splendid vocals (!). At the same time this stuff grooves and it rocks and rolls, yet without losing itself into pulpy nonsense. It's like Bolt Thrower getting covered by Autopsy, Cannibal Corpse being reinterpreted by Asphyx, Demigod being redefined by Incantation, or Unleashed joining forces with the like of Carnage – or something like that!
A couple of times Insepulto dwell within the harsher, aster spheres of Sonic Extremity, then again they neatly decelerate into tempos of quietude (haha, of course they are not!), rest (not at all) and tranquility (no chance!!!). Yet for sure – and that's where the Memento Mori part joins in – Insepulto do not need speed to define their strength / aggression / persuasion. And as a matter of fact, every single piece contains that 'something extra', that specifically inherent strength that characterizes the superiority of the Old School. Insepulto somehow seem to succeed to redefine that sound, that approach, that totality, and they do it without lacking honesty or pride, without dwelling into spheres of superficiality or narrow-mindedness. Or, in consequence, I am truly recommending this album to, well, each open-minded 'fan' of darkened (Death) Metal in general. I think this stuff is magisterial!