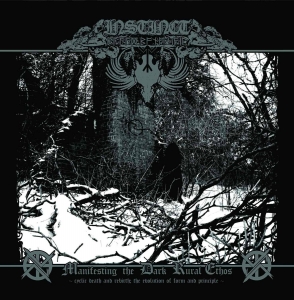 Album Title:
Manifesting The Dark Rural Ethos (Cyclic Death And Rebirth: The Evolution Of Form And Principle)
Release Date:
Monday, December 10, 2018
Hailing from Hertfordshire, North of London in the U.K. (almost a former member of the E.U.) and currently dwelling around in Wiltshire (East of London), Instinct is a productive outfit of one Verst. You might also know this guy from the projects Harrowing Slumber (in a near future, I will write and upload a review for Sleepwalking The Path Of Ea) and Spheric Obscurium, and it's the same person who runs Ancient Trail Recordings. Instinct was formed in 2005, and especially during the earliest years, there were several official releases, amongst which three full lengths and a couple of split contributions. The past years, things went quieter, and with exception of some compilations and a single-sided cassette in 2016, nothing spectacular actually happened.
Enter Autumn 2018. Via Ancient Trail Recordings' Bandcamp page, Instinct came up with a new yet lengthy piece, available digitally. No more Black Metal, yet one construction of darkened ambience and field recordings. I like that piece a lot, but this review does not deal with that release – yet I can / must recommend checking that piece out. Anyway, I thought the new album Manifesting The Dark Rural Ethos (Cyclic Death And Rebirth: The Evolution Of Form And Principle) would continue that path, but it was a one-time experiment. This newest recording brings what Instinct is best known for: a mixture of raw, grim and malicious Black Metal and eerie, abyssal ambient dronescapes! Hail!
Manifesting The Dark Rural Ethos (Cyclic Death And Rebirth: The Evolution Of Form And Principle) was written over a period of two years, and everything, layout and photography included, was done by the human being behind the project. A word about the artwork of the compact disc. The eight-page booklet consists of parts of the lyrics and liner notes, as well as some very nice, and totally fitting, pictures in black-and-white (metallic silver is more correct). It shows the rural rawness of the project, the connection with our beautiful nature (I do not mean the 'human nature', yet the animals and plants in our environment, and the link to the purity of all non-human existence, the cycle of life and death). Isolationism is a way of life, and this gets expressed by both the visual part, as well as the aural one, which I will analyse little deeper right now. Oh yes, the album got released at the very end of last year via Germany's top-label SchattenKult Produktionen in an edition of 300 copies.
Several pieces on the album are profoundly Ambient-oriented, as said. This goes, for example, for the introduction song, Bucolic In Black I (indeed, it means that there is a 'II' as well). Bucolic In Black I is a very short composition (with its duration of 01:19 it is the shortest thing on Manifesting The Dark Rural Ethos …), but it creates a very cold, distant feeling with its desolate droning ambience and the samples from Mother Nature (thunder and birds). Through Ancient Hills Sorrows Do Sound dwells within a comparable vein. Oh, how beautiful this is, with those gloomy synth lines, melancholic piano and additional sounds. This 'deep' piece is an aural translation of a black-and-white picture of a snowy landscape where desolation rules. It makes you dream of times long forgotten, of the almost erotic and deferential nature of seclusion. Also Encountering The Protector Of Hinds and Bucolic In Black II (here he is…) follow that esoteric path of aural fairness. Haunting drones, ritualistic spheres, mind-twisting additions, sounds of nature, it exceeds any level of praxis and limitation.
[PS: the download edition, which you can buy via Instinct's Bandcamp page, comes with slightly longer versions of Through Ancient Hills Sorrows Do Sound and Bucolic In Black II]
After higher mentioned intro, Instinct turn towards the essence of primordial Black Metal with The Desideratum Of Empathic Faunaticism And Antimodernism / Aeonic Collapse (16:35). This slow composition is enormously melodious, even mesmerizing in its melodic structure, with floating guitar lines that carry you away on wings of oblivion. In an adventurous way, this song – and actually, this goes for all tracks – has many things to offer, yet with one central concept: the experience of loneliness, loss, isolationism, melancholy, and even depravity and primal instincts. The structure of this song (and once again, in extension, all pieces on this album) varies a lot, with faster parts (the better part is quite slow), acoustic interludes and so on. Besides the melodic guitars, as mentioned above, there are excellent voices included; the main ones are screamed in some wretched way, tortured and hateful, yet there is more: spoken parts and grunts appear as well. The rhythm section (bass guitars, rhythm guitars and drums / percussion) supports the whole very decently: leaving room for the hypnotic essence of the leading riffs, yet undeniably indispensable for the whole concept. Especially those drum patters are essential to define the process of the conceptual totality. And hey, I haven't mentioned the use of keyboards and field recordings yet. These elements too are part of the whole, turning this composition, and as said the whole album, into more than a collection of tracks, yet into a magisterial soundtrack.
Even after two hands full of listens, I still discover / uncover delicate elements and fragile details within this multi-layered sonic creation. This is not an album that you 'know' after one listen, but you can 'understand' the underlying concept and emotions if you delve deep into it. With an open-minded – and passionate! – view, I get continuously overtaken by the richness (yeah, 'richness' in stark contrast to the icy content). Take the dissonant riff-play in A Hereticanticle For The Dark Energy, for instance; chaotic, cacophonous, destructive, yet canalising everything into a criticism on our fake society. Consider it an erected middle finger, a well-considered f*ck-off to the emptiness of post-modern existence and anti-telluric nihilism. With its twenty minutes of duration, it is the lengthiest composition on the album, so expect a wide range of additions all over it: 'clean' and somewhat invocative lead vocals and spoken words, an uncomfortable intermezzo (with those spoken words) with eerie piano and asphyxiating drone lines, and even a semi-spiritual and meditative sequence (towards the end), with shamanistic voices, tribal percussion and, once again, bewitching droning keyboards. Beyond The Light Of Dead Stars… and Betwixt Skullptural Forms And Flesh; The Wild Nexus continue this mixture of discordance and technically quasi-progressive experimentalism (indeed it is, without losing itself into the fakeness of avantgarde-driven modernistic nonsense), with that 'full' sound of overwhelming string layers and savage drum patterns (what a monumental completeness), and this chilly, rabid throat, spitting a manifest of disgust and aversion.
As mentioned before, Manifesting The Dark Rural Ethos (Cyclic Death And Rebirth: The Evolution Of Form And Principle) is an album you have to grow into. It needs perseverance and some mental twist, I guess, to appreciate this sonic experience, but I assure you that it is worth it.
[PS: I can recommend reading, and dissecting, the liner notes in the booklet, for it explains a lot; Instinct and Ethos, humanity versus non-human existence, synthetic constructions of society versus the law of the wild, and its consequences…]