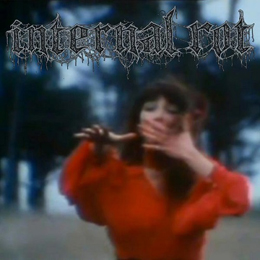 I have to admit that I am not that trusted with the Grind-scene from Australia; on the contrary. I even wasn't trusted with Blastafuk Grindcore's roster, but apparently this must be one of the most prominent Grind-labels from Down Under. Will Internal Rot start the new hype?
Mental Hygiene is this band's first official full length release, after some demonstrational / rehearsal material. The result contains twenty lullabies, having a total running time of nearly half an hour, which might give you a first idea of what to expect. Indeed, no long-stretched Funeral Doom epics, hehe…
Actually, what this album stands for, is that kind of Death Metal-injected Grindcore that, at the same time, sickens and cures. Despite the very short length of the compositions, Internal Rot cannot be compared to, let's say, an average (and this is NOT meant the negative way, but I need to start somewhere…) Czech band. Some compositions bring nothing but pure Punk-laden Crust-Grind, others are embodied by metalized structures or moshing madness, and sometimes (actually: more than once) Internal Rot even touch the origins of all evilness, cf. the Eighties-grotesquery. But what I need to add, and what I do appreciate, is that Internal Rot sort of created their own sound (though, once again, without being 'original' at all), and then I am referring to a certain cohesion throughout the whole album, despite the different angles and approaches. Anyway, it does not matter if you're 'into' the likes of earlier Napalm Death, Nasum, Insect Warfare, Brutal Truth, Wormrot, Extreme Noise Terror or Regurgitation.
Finally this: there's a vinyl-version available too, of course, via 625 aka Six Two Five Thrashcore. But no matter: digital, CD or vinyl; any Grind-freak will appreciate this sonic assault!