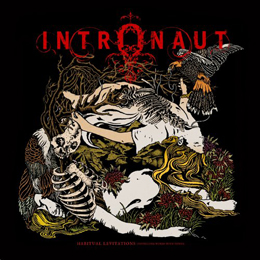 Intronaut play crunch metal that sometimes borders on math metal with a doomy/sludgy and even fusion edge. There are some modern Tool/ Baroness elements in both music and vocals thrown in, giving the music an up-to-date and original sound. The music is guitar dominated and both guitarists deliver the goods. In fact the rhythm section is very strong and is complimented by Sacha's screamo meets clear solid mid-ranged vocals.
Both guitarists shine, showing off their ability to write great melodies and unorthodox harmonies, but are ripping and tough at the same time. Juxtaposing math metal riffs with 70s heavy rock grooves, this US quartet sonic output is jarring, mind bending, and inexplicably confusing. There are enough sounds cascading throughout tracks like "Killing birds with stones" and "Sore sight for eyes" to keep your ears occupied for quite a long time. Of the 9 tracks "The way down" is probably my favorite because it fuses all of the band's best qualities into one condensed and intense riff-fest.
Habitual Levitations is a strong versatile album that defies any classification and Intronaut have enormous potential and I look forward in following their musical career from here on.