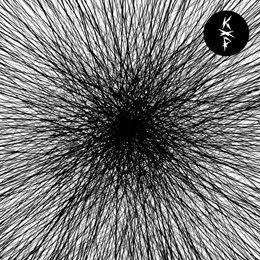 Release Date:
Friday, November 14, 2014
Öm is a new label created by Timo Kaukolampi, the master brain behind K-X-P, which is a Krautrock / Funk / Acid-Jazz-inspired formation from Finland. The moniker Öm is based on the mystical Sanskrit sound 'Om' and the umlauts we know from Motörhead (and in mean time taken over by hundreds of Metal bands all over our sick globe); both of them influential elements to define the sound of K-X-P. The new label is acting under the protecting banner of Svart Records, one of the most important labels from Finland, yet also one of the most diverse and open-minded labels ever. With K-X-P, Timo and his crew recorded two albums before, and in early 2015 they will release the third one. Yet to soften the heaviness of awaiting, Öm, Svart Records and K-X-P release the EP History Of Techno, which proves the open-minded attitude of all players concerned.
As the title suggests, this EP brings Techno indeed. Techno on a Metal webzine? Well, why not… if you don't agree, skip reading. Anyway, History Of Techno consists of five parts, amongst which four that pay tribute to the prototypical sounds of Seventies-oriented Techno Music. These four (divided as two 'tracks', i.e. History Of Techno Parts 1&2 and History Of Techno Parts 3&4) are based on happy electronic beats and rhythmic drum lines, created by quasi-prehistoric material like a Juno 60 (the main bass line), a Moog, a so-called Oberheim Sim, and a Roland 808 drum machine. The result is House-avant-la-lettre, primal and repetitive, spacy and trippy, energetic and danceable. From time to time there are even ethnic / tribal moments to enjoy, funky pieces, or more sober ones, but in general the whole is both meditative and hallucinogenic, taking inspiration from Ralph Lundsten And The Andromeda All Stars (Discophrenia, 1978) or Manuel Göttsching (E2-E4, 1984).
The third track is called She Time Travels In Every Direction Whenever She Wants, and the first part is more in the vein of what we're used to hear from these Finns. I guess it's a new songs, put on this EP as a teaser for the upcoming 2015-album, but I am not sure about that. Anyway, after some Kraut-meet-Floyd'ish start, this creation too evolves into a Techno / House-oriented piece of cosmic fuzziness, but of a loungier kind than the History Of Techno Parts-pieces on this album.
This material is not my cup of tea – at all. I cannot enjoy it, but that has more to do with me than with the musical style itself, of course. But since we got it from a label that I know as being open-minded, I tried to do the very same when listening to it a couple of days ago, and now, while writing this review (and with the obligation to listen to it once again). And in its specific genre, this seems to be top, paying tribute to the origins of Techno and all related genres (House, Dance, Rave, Electro, Dub etc.), so I will not give a negative quote. Yet still, this is my review, so the score is all mine. Do with it whatever you want…