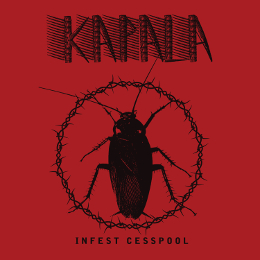 Release Date:
Monday, November 27, 2017
The scene from India is not exactly where we refer to when thinking about Extreme Metal. When it comes to labels, my knowledge is limited to one hand full of labels worth mentioning (Metal Masala, Cyclopean Eye Productions, Tormented Whores Of Da'ath Records (unfortunately defunct) and, of course, mighty Transcending Obscurity Records (owned by the fantastic guy Kunal), are those who dwell within my memory [and collection]). And when speaking about bands, well, there are less bands I know from out there than from a country like, let's say, Indonesia or Malaysia, to remain within the same era (more or less).
Germany's Dunkelheit Produktionen released (at least) one album for an Indian band before, being Dhwesha's Sthoopa (for the review, please enter the band's name in the 'search'-tab), and now they come back with Infest Cesspool, which is the debut for a new band, a trio, from the small (just kidding) city of Kolkota (Calcutta). The trio recorded some material, inspired by legendary acts such as Blasphemy, Conqueror, Revenge, Black Witchery, Goatpenis and the likes, gathered on an EP with an intro and an outro, described by the label as 'there will be nothing left but scorched earth and eviscerated eardrums […] – Kapala's martial dominance will prevail!'… Well, will it?
I was sort of confused, I must admit, when I started listening to this twenty-minutes experience, because of the opener To War (the intro). It's like a mixture of Harsh Noise and Noise Grind with a warlike attitude, so it could be a new angle of Dunkelheit Produktionen creative approach. But Homosapiennihilation, a piece that was released in digital format a while ago on the band's own Bandcamp page, shows the true face of Kapala. And I can assure you: this is an ugly, scarred, wretched face they show! Their reference to the bands I mentioned in my former paragraph is not coincidental at all. Kapala indeed bring a raw, primal, unpolished and nasty form of blaspheme, diabolical and misanthropic Black / Thrash / Death Metal. Brutality prevails for sure. From compositional point of view, this material is at least as impressive as their 'heroes'. It's powerful and energetic, somewhat chaotic yet structures, with a lot of fine details to reveal. I have no idea whether the members (V. I, S and A.T) are experienced musicians, but if not, this is remarkably interesting. And if yes, they just impress.
I have one 'problem', and it's almost unforgivable. The sound… The production totally sucks. Rawness is one thing, but this EP sounds as if it were recorded on an old cassette in a moisty cellar or something. It's messy, it's even irritating, and believe me if I say that this is a pity, for it insults the quality of the members' writing and performing skills. I pray for them to all Indian gods who are still floating around out there, that this band's next effort is at least as fine, seen from muSICKal point of listen, but not that terrible when it comes to the sound quality. A pity, for it does influence my (totally insignificant, unnecessary and superficial) score.
Available via the label on both compact disc and vinyl (12"), as well as via their homepage.