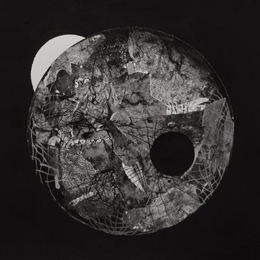 The Finnish band Katakombi was formed in 2011 and debuted one year later with Hämärän Vartija. Since that moment, Katakombi played millions of gigs (at least: almost…), especially in their home country, which made their fan-base grow enormously. Now they return with an untitled mini-album (duration: twenty six minutes), which was recorded and mixed at the Space Junk Studio with Kimmo Nyyssönen. And damn yeah, but it comes with fantastic cover artwork, done by Heikki Hautala, known from bands like e.g. Kuollot Muisto or Sokea Piste, as well as solo-artist (colleague Tony did a review on his album Pyövelin Vaatteet, which was posted on February 15th 2014), but also pretty famous as visual artist.
Anyway, on this recording, Katakombi consists of bass player / vocalist Donner, keyboard player Olavi, drummer / vocalist Mrcö, and guitarist Saarikoski. The three-track-recording opens with Liejuhaudan Vanki, which gives, probably because of its extended length, a perfect picture of this quartet's sonic view. Pieces of psychedelic Doom, a fusion of Drone and Sludge, and elements from, at the one hand, obscure and ominous (Black / Death) Metal and, at the other hand, progressive Post-Rock, interact with each other, turning this EP into a multi-dimensional experience avant-la-lettre (and mostly, après-la-lettre, if you understand what I mean).
What I think that is pretty remarkable, are the combinations of the different musical types: somewhat repetitive Traditional Epic Doom rhythms in interaction with spacy guitar sound, eerie blackish outbursts interfering with droning Sludge-riffs, or dissonant noises fraternizing with ambiental soundscapes, etc. …It might sound little disturbing, even lacking of cohesion, from time to time, but the basic intentions are very satisfying.