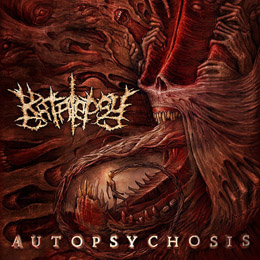 Katalepsy hail from Russia, and in their home country, they seem to be one of the most active and one of the most appreciated Death acts nowadays. With their international debut full length Autopsychosis, these guys will try to convince the rest of the dead worlds as well. I wonder if they will succeed. For sure they deserve to succeed!
Autopsychosis is a forty+ minutes assault of slamming Death Metal with an incredible technical approach in a very US-oriented style. No Iron Wall attitudes; this band implements every single element that makes the scene from the technical USDM-scene that remarkable: über-technical experiment, grinding outbursts, brutal-and-heavy-as-f*ck rhythms, deep growling grunts, a tempo that dwells in between ugliness and even more ugliness (can you imagine???), etc.
Katalepsy are the Russian answer to Devourment, Dying Fetus, Cryptopsy, Suffocation, Decrepit Birth, Sikfuk, Deterioration or Malevolent Creation. They do convince most of the time, yet a couple of remarks: no own identity, some predictability, too less variation and an insufficient mix (too much focused on vocals and leads).