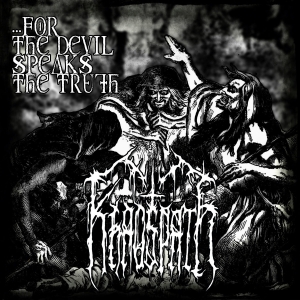 Album Title:
…For The Devil Speaks The Truth
Release Date:
Monday, November 28, 2016
~~Mark 'Hellcommander Vargblood' Azzopardi is a (talented) musician from Malta. He was involved with acts such as legendary X-Vandals (for sure one of the oldest bands ever from those Mediterranean islands, once formed as Vandals), Hell Rats and Martyrium. However, he is the very same guy behind mighty Draugûl, one of the several superb projects on Pesttanz Klangschmiede. I wrote two reviews for this solo-outfit in the past, and in a near future I will write one on the third full length album too – but that's not relevant right now. Just stay attentive. Another project by Hellcommander Vargblood is Khaospath, which he started as a solo-project in 2013. 2014 saw the recording and release of Synagoga Obscura, also done via Pesttanz Klangschmiede. A review for that album has been published very recently, on January 27th 2017 more specifically.
After this guy moved over to the tropic shores of Sweden, he started writing on the sophomore album under the Khaospath moniker, and this time it's our own Immortal Frost Productions having the honour to release that material officially. That's a first difference with the past. Another one is the recruitment of two additional members, being Döden on bass and drummer Gheist, both of them native Swedes. Okay, still the commander of Hell creates about everything, but the studio duties have been done with assistance of both new members.
…For The Devil Speaks The Truth became a nine-tracker, lasting for fifty-six (!) minutes. The artwork and layout were done by the band's main member and the label's preferred visual artist Moornebheym, resulting in a black-and-white twelve-page booklet with subtle magic and mysterious sigils and paintings / drawings. Fabulous and fantastic, but there's more to come…
In general, this album goes on in the vein of Synagoga Obscura. …For The Devil Speaks The Truth surely represents the Swedish-oriented cruelty / majesty of the former recording, with all recognizable ingredients presented. And since I was, for what it's worth, quite 'happiiiiiii' with that former album, I cannot be disappointed this time either. Well, actually, it's like the opposite, for I think (once again, it isn't but my personal, and therefor subjective, opinion) that this album has grown somewhat further. Let's check why…
…For The Devil Speaks The Truth easily continues the very same path of Synagoga Obscura, creating a quite typifying form of European, sorry, Scandinavian, oops, I mean Swedish oriented Black Metal in its most traditional performanting existence. There's nothing wrong with that, at least as long as the average quality is acceptable. Well, actually, this time, again, that's the case. This album is not meant to bring something new / renewing, but it surely expresses the initial core of the (Swedish) scene from, let's say, about two decades (or little more) ago. And it works, it does… Everything seems to be worked out the perfect way: sound production, structure of the songs, balance of instruments and vocals, and even the visual aspects I did refer to in a former paragraph. So, let's make things sure: if you are looking for something completely 'original' or 'renewing', then you better skip this etc…
Butt, sorry, but anyway, …For The Devil Speaks The Truth stands for quite fast and intense, pounding and hammering Black Metal, sweetly and softly balancing in between the fabulous grotesquery of melody and the nastiness of fierce-paced aggression, yet without fading away into ignorant, stupid, infantile superficiality (a sickness I came upon too often lately). Once again: this project does not reinvent warm water; but it's a pleasure to bathe into the hot and comfortable springs of known areas.
And as a 'honest' reviewer, I can't go on without focusing on two other aspects: sound quality and variation. I will be brief on the latter, but please do, for instance, compare the magnificent supremacy of a composition like The Stench Of Betrayal (what a riffing, what as solo!), and you'll understand my thoughts for sure. And when it comes to the sound quality… I Know that I am quite open-minded, kind of allergic to clinically produced results. But in this case I am sort of ecstatic, for the production is simply grandiose. …For The Devil Speaks The Truth comes with a mix of all elements that purely focuses on the individual qualities of all elements, and at the same time it does focus on the coherence and equilibrium of these aspects. No, forget about clinical dullness, and ignore infantile chaotic primitivism; in this album's case the sound quality is just excellent (once again).
For S., hereby my (irrelevant) score…