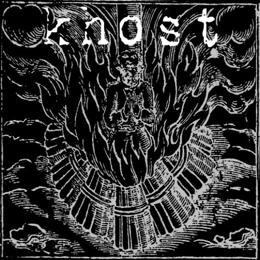 Release Date:
Wednesday, October 29, 2014
Khost are a very young project from Birmingham, UK, formed in 2013 by Andy Swan (of Iroha / Final / Atrocity Exhibition-fame). With assistance of Deathless' Damien Bennett, Khost played live on stage with the likes of Goatess, Conan, My Silent Wake, OvO, Final etc., and recently he joined the magisterial Cold Spring-roster under his Khost-pseudonym in order to release the debut album Copper Lock Hell.
Copper Lock Hell, which has a total running time of sixty three minutes, opens with a very short intro, which is the title track, bringing a minimal piece of soft-apocalyptic Noise. Things however start getting interesting as from the second title, 14 Daggers, which opens with an eerie cello melody. After about one minute, it transforms in an even more eerie piece, based on low-tuned, droning guitar lines, haunting noise-scapes and one or another Middle-eastern melody (¹) at the background [(¹) these Arab-alike tunes return more than once throughout the album, but I do not think it is a coincidence; 'Khōst' a one of the provinces of Afghanistan, close to the Pakistani border, which might be the missing link in between…]. Slowly it evolves, and when the enormously deep vocals and industrial drums join in, I am reaching a level of purest ecstasy. But that's not all. There is much more to experience with this hybrid of Drone, Death / Minimal / Martial Industrial, Black Noise, Sludge, Atmospherics, Funeral Doom, Psycho-Grind and Ritual Ambient. The trans-dimensional and post-cosmic (I know that both reflective descriptions are as hollow as they are full!) journey continues that very same way, avoiding normality, ease or tranquillity. It's like Scorn being covered by Esoteric, Kaula joining forces with Swartalf, or Woods Of Belial copulating with Empire Auriga. What an intense and intensive wall of sound, what a massive, colossal extremity; such barbaric machinery is both a blessing and a curse for man's eardrums. At the same time it is esoteric and ritual at the one hand, and menacingly sadistic and misanthropic at the other. In general this material is extremely slow and ultra-heavy, dissonant and suffocative, ominous and militant, yet it never loses itself in disappointing annoy or irritating exaggeration.
Copper Lock Hell ends with the remix of 14 Daggers done by Kevin Laska, one of the guys behind Noise / Ambient / Industrial act Novatron, or Post-Doom / Drone project Transitional. It's like the initial composition evilized into hellish proportions, maintaining the haunting, asphyxiating atmospheres of the original edition.