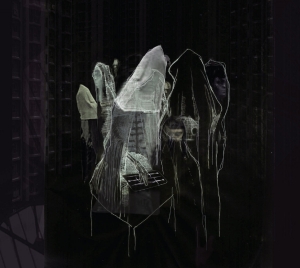 My reviews for Copper Lock Hell (publishing date: November 17th 2014) and Corrosive Shroud (updated on December 24th 2015) – both, by the way, released via Cold Spring Records – sort of define my passionate adoration for this duo, being comprised of Andy Swan and Damian Bennett. Written over a period from 2016 to 2017 (during times of unease and sickness), Governance represents the newest work by UK-based Khost. Once again it gets released via Cold Spring Records in a six-panel digipack, consisting of eleven tracks (amongst which a remix by an Israeli colleague-musician) that clock about fifty minutes.
The album goes on with the concept of 'detachment and dissonance, and ruminates upon the exertion of wills that are not your own, and upon the ways to detect and trace the outlines of the presence(s) that may exert these daily wills upon you, day by day'. It sort of results in, as stated by the label, 'a hinterland of low resolution transmissions interspersed with broad concrete columns of distortion that loom suddenly from the dim landscape […] like driving at night with your spirituality asleep at the wheel' (make sure you don't crash, literally and figuratively).
And as from the opening sequences of the first composition, Redacted Repressed Recalcitrant, the sonic discomfort grabs the listener by the throat. As put, 'with demoralizing vocal terror, hypnotic nightmarescapes, frost-encrusted tones, and horrifying rhythms [this release spawns – Ivan] entrancing yet hazardous tectonic doom-laden revulsion'. It says it all. every single aural monument on Governance is like an asphyxiating soundtrack for man's most negative emotions, and mankind's most ugly, vile philosophies. Slowly crawling forward, towards the darkest pits, beyond the deepest abyssal dimensions, Khost create a mostly uncomfortable wave of sick, discordant sounds, taking its inspiration from horrific soundscapes, heavily industrialised noises, psycho-grinding structures, obscure aural webs of Doom, malignant and pounding riffs, devastating skull-crushing percussion beats, droning and blackened ambience, and post-apocalyptic sonic torture. There are even hints of Dark Jazz, Funeral Sludge (yeah, as from now this is an existing sort of Aural Art) and Martial Industrial involved, together with those subtle yet quite unworldly-used Oriental / Arab injections, which have been used before too.
Governance represents a majestic vision on post-life survival, through ritualistic layers of strings, hellish vocals, psychotic yet colossal drum patterns, disturbing waves of synth distortion, and many samples and soundscores. It's harsh, it's militant, it's sadistic, and at the same time mesmerizing, haunting and bewitching. I think there is a huge imaginative aspect involved, a challenge for the audience, meant as a provocation for the adventurous yet dark-minded listener. This monstrous and monolithic mixture of lo-fi Death Industrial, Blackened Drone, Psycho-Grind, Doom Noise and Ritual Ambient is, once again (cf. the former releases) a dare, and not meant to be experienced by heart patients or narrow-minded 'keep-it-easy'-Industrial fans. But to my opinion, Khost succeed, once again, to create and release a fine, unique, though brutal and unsympathetic album.