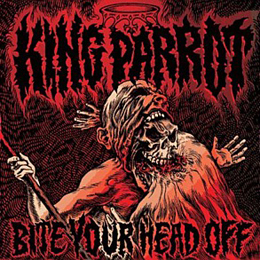 King Parrot is a thrash and grind metal band from Australia and was formed by three ex-members of "Watchdog Discipline" (White, Lacey and Rizzo) plus Young from Stiff Meat and Cockfight Shootout bassist Slattz. The band fired off an EP in short order and quickly became firmly established as an energetic and punishing live force.
Former Dreadnaught member Squiz joined the band following Lacey's departure and after plenty of touring the band's first full length release appeared mid-2012. Since then the band has rarely been off the road as they play extensively Australia-wide, doing shows of their own as well as a regional Victorian tour with bands like Frankenbok, Dreadnaught and even opening for Obituary in Melbourne. In April 2012 King Parrot announced they had signed an international deal with Candlelight Records. And now their new album was released in May 2013.
Wel I really have my doubts about this one. The vocals actually sounds like a parrot so now we know where they got their name from. But fair is fair, these guys deliver what they promise. A very energetic record that doesn't give you a breather. Witch does sounds good considering the good combination of grind and trash. But I'm telling you those parrot vocals are everything except enjoyable.