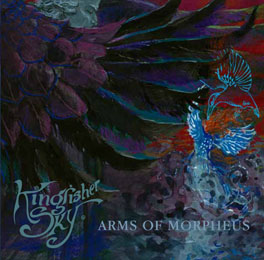 Huh...Kingfisher Sky...I knew I'd come across this Dutch Gothic/ Progressive Rock/ Metal band before, but upon checking my past activity sheet I found out that I didn't do a review of either of the band's previous two albums. Ah well, why don't we go over the band's history first then, shall we?
At the basis of the 2001 foundation of this band, is drummer Ivar de Graaf, whom had previously played with Within Temptation and left that band to pursue his own musical interests. His 'partner in crime' would be the classically formed singer Judith Rijnveld, whom he found a common ground with due to their common wide musical interests, which then ranged from Porcupine Tree to Cecilia Bartoli, and from Kate Bush to traditional Folk music (source: band's page on Wikipedia), with the likes of Jethro Tull, Peter Gabriel and Tori Amos in between. They also found they had influences that diverged, like Judith's strong love for Soul artist Aretha Franklin, and Ivar's preference for traditional Folk...but they decided that these differences would only work to a stronger collaboration. Still as a duo, Judith and Ivar started recording songs in their home studio during 2005, and a record deal was signed with Suburban Records in 2006. Then, the duo set their minds to forming the band, and the first to get into the fold was bassist Eric Hoogenboom (formerly of Orphanage). Guitarist Daan Janzing was then introduced to the band by Ivar's former Within Temptation colleague Ruud Jolie, and keyboardist George van Olffen followed soon after. To complete the line-up on a temporary basis, Edo van der Kolk (a 15-year acquaintance/ friend of Ivar's, who'd also played a solo on the demo version of the song "Through My Eyes") was asked to join as well (he would remain with the band to date).
The band's debut album Hallway Of Dreams, was recorded in 2007 under productional guidance by Jochen Jacobs (from the Dutch band Textures) and Bouke Visser (Split Second Sound), and released in October of the same year. A review of the album by former colleague Stef Maes, can be found posted on 29/10/2007 in this website's "Archive" section. In view of a special show the band wanted to do, they invited classical cellist Maaike Peterse to join the band on stage for a rendition of the song "Big Fish", and due to the very successful cooperation and strong personal bonds that were created during the preparations for the show, Maaike soon after became the band's 7th member. The band's debut album (which was by then available outside the Benelux, in countries such as Germany, France, Italy and the UK) was picked up for release in the US by the Laser's Edge imprint in March 2008, and distribution in Japan through Disk Union was secured later the same year. Additionally, the album was also released on vinyl through Tonefloat Records (who'd previously released material by Porcupine Tree and Roger Waters, among others). On the live front, the band had already grown to be a regular on the Dutch scene, and to promote the album they went and did a successful headliner tour throughout Holland. Not a band run for a first album...in spite of the somewhat negative review by my colleague!
But the band's line-up was soon subject to some changes. In July 2009, the original keyboardist of the band left to pursue other musical interests, and after a temporary replacement by Rene Merckelbach, the band recruited David Gutierrez Rojas as a permanent substitute in November of the same year. Then, in April 2010, the band announced that the guitarist decided to leave KS, in order to concentrate more on his other band, My Favourite Scar. His replacement was to be Chris Henny (previously of the Progressive Rock band Cue, which he'd started up in 2007 while at Zadkine's Popacademy). I am however uncertain whether he played on KS's second album Skin Of The Earth, which was released late September of the same year (a review of that album, by colleague Jeroen – who gave it a moderately positive assessment, can also still be found in this site's "Archive" section, posted 26/11/2010). Overall positive reviews led to new headliner tours ensued, as well as support slots for scene related bands such as Delain and Epica. Oh...interesting side-line: Ivar contributed his drum play to three songs on Ian Parrys solo album Visions, and he also played on 5 songs (and shared writing credits) on Parry's Consortium 4 album.
In order to finance the recording sessions for their 3rd album, the band started a crowd funding campaign, which successfully found its target within a week. Due to having to spend more and more time running the company he had founded a couple of years back, original bassist Eric Hoogenboom left the band in May of 2014, his role soon taken over by Nick Verschoor (whom had already occasionally played with the band, filling in as one of the guitarists was unable to make certain live dates). The latter shares bass playing duties on the new album with Kristoffer Gildenlöw (solo artist and formerly with Pain Of Salvation, see also Dial and Rust), whom acted as guest bassist on no less than 6 of the 11 songs on the album. Another important guest musician was violinist Ludo de Goeje, playing his instrument on all tracks but three. And further guests include Fieke van der Hurk, playing Hurdy Gurdy on the track "Insomnia", and Valerio Recenti and Bouke Visser adding their bit to the very Jethro Tull-like "Heather", respectively adding backing vocals and tin whistle. All songs are originally written by Ivar and Judith, and they were also responsible for the production, although they had Jochem Jacobs (see the debut album) mix and master the album (at Split Second Sound).
Obviously, in the meantime I've found out where I knew the band from. You see, I regularly go help out our editor-in-chief with updating the website, and when KS' second album had arrived at the site's headquarters, he played it for me, hoping to be able to have me review it. An offer which I declined, because at several instances on that album Judith's voice had a "quality" I simply did not like. "Something" which I still do not like today, in fact! You see, even when a singer is classically trained, he, or she, when singing in a genre that is "alien" to the strictly classical, will adapt his/her voice, using the more classically voice in those parts which to him/ her seem most appropriate to that style. And it turns out, I have no appreciation for those moments when Judith puts her classical training in her voice! To my taste, such songs as the album opener "Hypnos" are quite diminished by the use of that rather heady singing style. However, móst of the songs on that album àre to my liking, even so véry much! Such songs as "King Of Thieves", the overall somewhat heavier "Open Eyes", the very sad "I'm Not Alone" (for a woman to sink that low, she must've been betrayed by those she considered her friends, or her loving counterpart, very deeply...and for a lovely woman like Judith to sing the tale, makes it even more poignant), the wonderfully Tull-like "Heather", and the tributary album closer "Maddy" (in loving memory of Marina Schaefer, says the booklet, but the band misses the opportunity to explain in greater detail). In between, a song like "Insomnia", which doés have quite a bit of Judith's more heady vocal stylings, was found generally acceptable, possibly due to the musical accompaniment, which does have quite some classical elements, after all. By the way, in case you haven't noticed, the album has a concept, dealing with "sleep" (you know, Morpheus?), and the red thread certainly helps liking the album as a whole! In fact, I am not known to take down a complete album due to small things as a vocalist which occasionally drives her voice into regions I don't like, and I tend to look at the effort a band puts in its work.
Now, I tried to find a spot on the Net where you might find an elaborate introduction to the new album, but to no avail. I guess you'll have to make due with what the band itself posted as teasers on their own website (www.) kingfishersky.com (see "News" section). For older material (oof either one of the previous two albums) check the "Clips" section on that same website, and for additional videos (4 shorties recording CD2, live rendition of "Through My Eyes") check the band's facebook page (link at their own site). I guess the album should be available from some of the more trusted online sales sites (try Amazon, iTunes, CDBaby), and they usually post 30-second samples of all album tracks. Go check it out!