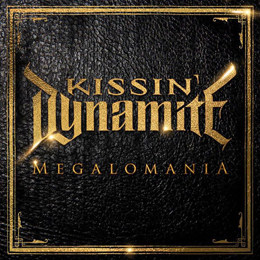 Release Date:
Friday, September 5, 2014
Line up :
Hannes Braun – Vocals
Jim Müller – Guitars
Ande Braun – Guitars
Steffen Haile – Bass
Andreas Schnitzer - Drums
This quintet hails from the southern parts of Germany and is celebrating the release of their fourth studio album.  Sometimes that information is all you need to know as the music doesn't conjure orgasms or even the slightest emotional response. 
After recording four studio albums, playing live in support of 'W.A.S.P.' and 'Mötley Crüe' amongst other such luminaries of the rock scene, these youthful and enthusiastic whippersnappers have thrown everything at this ten song collection. 
'DNA' starts things off with a reviving anthem-style track that has huge production. The background vocals send chills down my spine and the power chords surely drive the tune. The synthesizer on this particular song fits well and adds to the body of the music.
'Manic Ball' has a tasteful opening with Hannes's vocals. The song has that sound that might accompany a Broadway musical but with a Spanish style flare. It's a very unique tune with some killer guitar work by Jim Mueller and Ande Brown that also has an essence of 'Guns'n'Roses'.
Who the hell is going off on drums but none other than the master drum basher Andreas Schnitzer. 'VIP in Hell' highlights the midsection of Schnitzer and bassist Steffen Haile until dual guitarists Jim Mueller and Ande Brown go off on a tantrum with slashing solos. With the first three songs so far 'Megalomania' feels like a concept release and that's not a bad thing.
'Fire Flies' is a massively dramatic song that will have fans rejoicing. Kissin' Dynamite' has reached a pinnacle in songwriting. This song is perfection; it's not a heavy tune but a great smooth rock song that has greatness written all over. The track 'Deadly' pushes the envelope in that classics heavy rotation mold. Hannes' vocals have many directional changes as with the music and we have another excellent tune.
'God In You' is so diverse I am not sure I love it or hate it. My first impression was this song sucks then more listening and I love it. It's heavy and gives way to a musical extravaganza.  Drummer Andreas Schnitzer is sure the highlight of the tune. You know drummers never get the props they deserve but Schnitzer is given plenty opportunity on 'Megalomania' and he delivers. 'Running Free' is another song I was bordering on. I knew it was good but how good and upon repeated listens I now rate it Excellent !
'Legion of The Legendary' is not one of my favorite tunes but it sure does pick things up during the chorus which was the saving grace for the song plus the guitars blaze on this one.
On 'The Final Dance' Hannes is outstanding on this broken-hearted love ballad. This one will touch the hearts of many fans so get the tissues handy.
After wiping my eyes it's back to crunch time with the closing track 'Ticket To Paradise' another traditional rock song that will have the fans singing along to.
Naturally, this band won't appeal to everyone as they retain a certain German charm to their sound.  The essence which made the 'Scorpions' so popular with some and not others is an observation some may make as a parallel here.  Whatever your thoughts, there is no getting away from the fact they have some catchy music with muscles to offer those who give them the time, and they execute with an efficient precision stereotypically associated with German design.