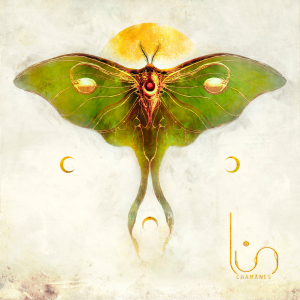 Release Date:
Saturday, February 27, 2021
Warning: there is a huge dose of feminism going on when talking about the French project Lůn, but it has to do with the female force as a vital part of Mater Terra's evolution, as goddesses of Human Life, rather than with some anti-male statement. Phew…
No, seriously (for a while). Lůn is a project by Paris-residing musician Mayline Gautié (not born, for initially hailing from the South of France), who is actually a classic-schooled violinist. Throughout the years, her name did appear a couple of times within the Metal Music milieu, for being part of the Idensity line-up (she played on both albums, as well as live with this (in the meantime defunct) Prog-Death act) and, more recently, Adagio (besides some session assistance, like in Rïcïnn, Impureza, The Vivaldi Metal Project and others). She did inject her own ideas and capacities in all those bands, based on het classic education and taste for tribal Music from the Middle-East, India etc. Besides, she did create live performance stuff for the likes of e.g. Endless Night Vampire Ball (the 2021 edition will be a virtual one) or Emajinarium (Cirque de Soleil-alike magic).
Anyway, Mayline felt the urge to start her own outfit, which is called Lůn. It is 'related to nature, elements, vital energy and mysticism' or 'connected to Nature, Elements and the invisible. It gives an access to other worlds and dimensions'. A first effort is called Chamanes, being a five-tracker that was mixed and mastered at the famous Henosis Studio, and released via the contemporary digital sources, as well as on compact disc. It comes with extremely stunning artwork, courtesy of apocalyptic illustrator Okiko (think: Psygnosis or Emethyl). With exception of some cello parts, everything was performed by Mayline herself, just like the song writing, production and lyrical side.
And when talking about the latter, those lyrics, well, Mayline sort of created an own speech, she invented a language herself that should fit (and which does fit!) to the musical concept. That's not totally new, of course; related acts like Rïcïnn, Öxxö Xööx, Lisa Gerrard, Urban Trad do the same. But as said: it does work for sure, lifting up the mysterious atmosphere behind the whole concept.
Anyway, this EP, Chamanes, starts with the title track, which is the lengthiest but one out of five (clocking 4:43). And purely informative, but there is a video for this composition (link below), which focuses on the force of female spiritualism within our existence. It starts with several tribal elements (percussion, strings) and whispering voices, somewhat shamanistic and summoning. But after almost a minute, it evolves into a rather esoteric and ethereal piece of Neo-Folk / Neo-Classical stuff, still injected with many influences from Tribal Folk, World Music and Ritual Music. It's like Wardruna, Dead Can Dance, Heilung and Nytt Land joining forces somehow. The song slowly builds up, climbing higher and higher, growing yet still maintaining an attitude of integrity and organic elegance. At the same time, it sounds oniric and defiant, evocative and even sensual. Several vocal chants, violins and enthralling percussions make this title track a mostly exciting experience.
Prāņa (4:06) (also with a video clip; link below this page) is an instrumental piece, extremely energetic and powerful, based on violin and percussion especially, full of energy and opulence. It is like a soundtrack for the source of birth, growth and strength, a post-meditative celebration of vitality and fecundity. It's a mental dance around the open fire, swirling around, paying tribute to the forces of Nature, surrendering oneself to both imperturbability and complacence. Extraversion and introspection come together in a fine balance.
For Sedna (4:28), Mayline did work together with cellist Raphaël Verguin (if I am not mistaken, they are life-partners too), whom you might know from his collaboration with e.g. Rïcïnn, Psygnosis, In Cauda Venenum, Spectrale or Helioss. This song pays homage to the Inuit goddess of the Seas, and it's a more spiritual piece. Different layers of skilled, sometimes reverbing female voices are once more accompanied by intriguing violin lines and tribal percussions especially, resulting in a somewhat Gothic grandeur. Sedna comes with a semi-emotional atmosphere, I think, focusing on primal emotions and hypnotic rhythms rather than synthetic constructions.
Sève (2:40) too comes with cello assistance of Raphaël, and it's much more World Music / Folk infused, with a fluent energy (despite the integer acoustics). The multiple vocal lines go perfectly well with the very modest, discrete and subdued acoustic strings (guitars + violin + cello), combining the scalding warmth of passionate fire with a fine-tuned wish to grow, to expanse, to explore. The juice of life seems to flow through the veins of Earth, giving birth, life and light, and whatever that comes after. Despite its very short duration, Sève remains glooming through the listener's mind…
With Lăsteio (5:12), we can sort of experience a huge symbiosis of Lůn's repertoire. With the heartbeat as guidebook, this final piece starts quite intimate and natural, esoteric and hypnotic, with those floating violins and ethereal choir chants. The violins have something gipsy (once more), yet maintain that bewitching attitude. After two minutes, things turn more energetic, with cheerful percussion, exciting voices (a lot of tangles and timbres pass by), before turning (at three minutes and something) into another level of up-tempo vigour. And still that heartbeat guides you through existence…
https://lun-music.bandcamp.com/releases
https://www.facebook.com/lunmusic
https://www.youtube.com/watch?v=Wk7X0C7ASQk
https://www.youtube.com/watch?v=33PyWMbpX5A&t=1s