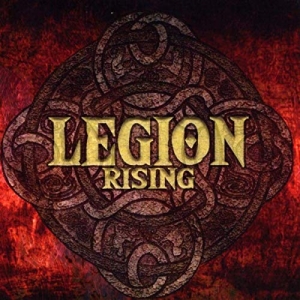 Release Date:
Wednesday, April 17, 2019
You know, the Dutch collective Rock Company exists for more than three decades in the meantime, and as an underestimated yet upcoming label it is part of NoReSt as from 2010. Rock Company is home to several known and lesser known bands, especially specialized in Hard Rock and (Heavy / Power) Metal, and all related genres. Part of the roster is Legion, a band from the U.K. (a country once part of Europe before being incorporated as 51st state of the U.S.Aarghhh). it might be an exaggeration to call it a 'super-band', although the members are quite notorious within the scene. Legion consists (or used to) of current, former and session members of e.g. Bob Catley, Weapon, Dianno, Battlezone, Tragik or Tank, and some members (like vocalist Phil Vincent) are no stranger to the label, with releases of some other bands they are involved with (Tragik, D'Ercole, Phil Vincent as solo artist, and a few more).
Anyway, Rising was the first release Phil did under his own name, and now it also is the first album after two years and a half of oblivion. And it surely is another necessary chapter within their huge discography, not to be missed. After a period of disappointments and setbacks, it was time to settle the score, to take revenge, and ten new tracks were gathered under this working title. The label released a version on compact disc, and evidently there's also a digital edition. Rising (aptly titled this way) lasts for fifty minutes, and the cover artwork is quite sober yet inspirational.
I was surprised in a positive way with the opening sequence of Nothin' To Me, the first track on the album. Waw, what a great, ultimately heavy riff!. I first thought it was an introduction for some monstrous Thrash album, especially when that fiery solo joins in. this composition represents a modern form of Heavy Metal, yet deeply inspired by the old school. And then I am referring to both the NWOBHM current as well as the international Hard Rock trend from the Eighties. It's a very energetic piece, heavily guitar-driven, with a firm, powerful rhythm section, and room for both dynamism and melody. Phil's vocals are melodious and clean, yet not high-pitch, nor false, and therefor truly fitting to the empowered instrumental song structure. Many leads and solos draw attention, carefully interwoven with harmonious choir chants and the heaviness of rhythm and bass guitars and drum patterns. This continues with the second piece, Full Moon Rising, at least as intense and little more 'spectacular' in a technical way. Like the opener and quite some songs on Rising, it strikes me how much the band focuses on that equilibrium of harmony and power. And they do it with such natural flair, whereby the true and honest attitude grows throughout the whole album.
In contrast to the heavier compositions, a couple of songs show a more intimate, introvert and emotional side. Listen, for example, to the warm atmosphere in Maybe Now…, the floating melancholy in Lost Soul, or the disappointed yet critical approach of Politician.
Overall, everything is recognizable, with a touch of adventure and a huge dose of singalong attitude. After just a few listens, you can easily join the crew and sing out loud the hymnic anthems. But such 'predictability' does not need to repel, be sure of that. When I started being interested in the heavier side of Music (early eighties – yeah, I am that old, but don't you dare to [censorship]), I soon plunged into the darkest waters of the scene, yet I could not but recognize the importance of those bands that sort of paved the path for the more extreme scene. And hey, radio airplay offered us Scorpions, Guns 'n' Roses, Europe, Def Leppard, ZZ Top and so on, so I will not deny the importance at all. yes, it does sound catchy for sure, but not in a pathetic poppy way, with somewhat evident solos, hooks, tempo changes and choruses, but the connoisseur will adore it.
Moreover, the sound is truly fine. The clean and decent production results in a great sound quality. The well-balanced mix makes every single detail and each instrument as an equal part of the game, you know, like little wheels in an expensive Swiss clock. But it's fine to notice that bass lines too, to give one example, are mixed to the foreground too. No chance to steal all attention (within this genre, vocals and lead guitar riffs are too often like the spine, with the rhythm section being nothing else but a cheap support to strengthen the ego of the band leaders) – no, the sound is a surplus for sure.
Recommended if you can appreciate, well, everything from Whitesnake to Saxon, from Kiss to Fates Warning, from Judas Priest to Magnum, from Europe to Dokken, from…, well, you got the picture, I guess…