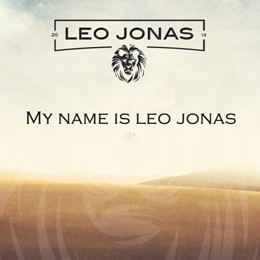 Not a freaking lot is known about this Munich based German Pop singer/ songwriter/ guitarist, whose sound is a guitar based kind of Pop in which the acoustic has a dominance.
Cited influences (for his music nów) at (www.) facebook.com/pages/Leo-Jonas include The Smiths, Slash, and Anderson Silva (but the 1975 born "youngling" also states having grown up with the music of Guns 'N'Roses, Sex Pistols...and The Smiths), and the label recommends the music to those music fans into City & Color, Coldplay, Bob Dylan, Ryan Adams, and Frank Turner. Well now...I don't wanna rain on anyone's parade, but...!? Granted, first song "The Walking Dead" indeed has some reminiscences to Turner, thanks to the nicely interplay between acoustic and electric guitar. It's also the only track on this 4-track EP which has a complete band playing (hum...a bass mày be missing, but there's drums included anyway!). Second song "Heaven Can Wait" finds a solo play for Jonas, accompanying himself with some sparse, barely electrified guitar, and backed up with nice harmony vocals (that's the only real constant on the album really: the lead vocals being backed quite tastefully). The two other songs ("Turning Tables" and "Goodbye") are acoustic, and sound like un-noticable fillers, if anything else! Jonas' own voice is somewhat too unilaterally nagging to my personal taste, and unless a full-length sees its material geared rather toward the first two songs on this EP, Mr. Jonas is in no danger of finding a fan in yours truly very quickly!
I've been wondering whether I wasn't being too severe on this German artist...because I usually dó try to find the best in whatever music I come across, but in trying to find out whàt part of the day I might prefer to play this EP, I resolved to one answer only : there ain't no such moment! Still, I love what he did with that very first song (and that's also the reason for the relatively good rating I gave the EP)...and apparently so did he, because it happens to be the only song out on the internet (find it at the homepage of (www.) leojonas.com)!