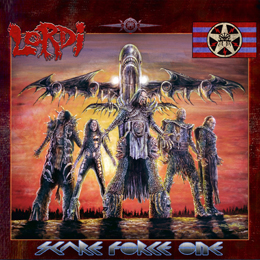 Line up :
Mr. Lordi – Vocals
Amen – Guitars
Ox- Bass
Hella – Keyboards
Mana – Drums
'Lord'i is one of those few bands that I listened to highly years ago. During the era of The 'Arockalypse', I had the album with me at all time wherever I would go, whether in my car or MP3 player, just wherever. Three albums later, and I am back in Lordi mode once again. The essence that one of their previous albums, 'Deadache', wasn't a strong one, thus my status as a fan slowly diminished. I was offered this new album and decided, hey why not? I'm wondering what they've been up to and how their sound has changed, and boy has it changed dramatically. If you don't know, Lordi was formed many many years ago, but wasn't until 2002 that their first album was released. Fast forward to present day and this will be Lordi's seventh album release, appropriately slated to be let loose on Halloween. As mentioned, the sound and structure on this album has matured vastly, compared to their previous works. A few interesting facts about the group, lead man and founder, Mr. Lordi, is the president of the KISS Army in Finland, they won the continental singing competition, Eurovision, in which most of the countries in Europe submit one artist from their country to represent that country in the competition. Lordi was the only metal act in Eurovision, and a win for the metalheads as they won that year in 2006. Former drummer Otus was with the group for a mere one year, before he died, and previous to him, Kita played drums for a decade, currently Mana, is the groups newest permanent member. To add on to the list of facts, their choice of wardrobe is certainly eye-catching, and occasionally their choice of dress has had them compared to Gwar and on a rare occasion, Slipknot. Though all their styles are completely different, their decision to bear gore and shock costumes is a smart one. In regards to their newest album, Scare Force One, this album runs for nearly an hour with a hauntingly set of 13 tracks to cater to the masses.
Various tracks on the album stood out above the rest. An instrumental prelude/intro, Arm Your Doors and Cross Check, slowly embraces the listener into a psychologic state of thought. A minute and a half later, the second track, also the title track, Scare Force One, appears. Hard riffage and headbanging rhythms kick off the album in an energetic way. The immediate presence of eerie keys, lay down the mood for the track, as both piano and other key effects appear at various points throughout the song. Hell Sent In The Clowns, is dedicated to the clown phobics out there. A perfect replification of circus keys carry the theme of the track through, as a harder edge on the track drives this one through hoola hoops, rings of fire and shall I say it one more time as the keys started to creep me out eventually, but then the killer melodic solo put on a grin on my face. Keeping true with the twisted and sinister ambience, appropriately titled as so, Cadaver Lover, brings in a new ambience to the group, one that I was not expecting. A gradual buildup of tunes, verses, chorus', make way to an epic chant and choir later on. This track also falls under the rigid tones category, as rigorous double bass and piano play towards to end of the track.
An interlude appears and is a continuation to another track from one of their past albums, Babez For Breakfast. Amen's Lament to Ra II, melodically and appropriately transtions the listener to one of my favorites on the album, Nailed By The Hammer of Frankenstein. Direct, hard and in your face riffs with speedier than usual drums and bizarre yet pretty badass key effects pivot the track to amazing heights. This is one of the more aggressive tracks, so for you headbangers, this is one of the recommended ones. As we wind down on the remaining tracks, She's A Demon, had a gloomier and darker feel to it, with it's chorus. The obvious presence of the piano layed down a shadow that only the 'She-Demon' can muster, and hey why not finish with a progressive sounding solo, one that took me by shock. Boy did, Amen's guitar skills improve over the years, oh my. As Hell's Kitchen turns the heat down for a minute to let children eerily laugh and chant away, as Hella does another wondrous job with her haunting piano skills, the final track of the album arrives quickly.
Another of the favorites, Sir Mr. Presideath Sir, (I love that title), brings forth another set of edgier anthems. Once again, Hella goes above and beyond with her unique keyboard skills and effects. The epic chorus full of final energy, and a clever reference to the Marine Cadence "I Don't Know What I've Been Told" is reworded to fit to Lordi's liking by saying,, "We don't know what we've been told, our leader's heart is made of gold." As the group puts forth all their energy towards one last blast of shock, the pilot of 'another airline' voices in and mentions "if you look over to your left, you'll see an enourmous flying object with a direct intercept path with us, identified as Scare Force One. Unfortunately we have 2-3 minutes left, so I'm just going to unbuckle my seatbelt and have a Jack and Coke, hell, Jack and Coke's for everyone!" Personally I would have loved to have heard that Mr. Lordi himself was the pilot this whole time, just to freak out the passengers.
An album that is themed quite well, with many tracks keeping true to the theme, Scare Force One, threw in some nostalgic elements that I miss, while at the same time, innovating and going towards a new sound, a new path you can say. From start to end, each track came to me in it's own way, as none of the tracks sounded like one another. Easily their most unique album yet, if you haven't been with Lordi for a while, like I was, now is a good time to get on them. Amazing lyrics, clever track titles, everything and more entices me to get on that plane and take a trip on Scare Force One. Stay Metal