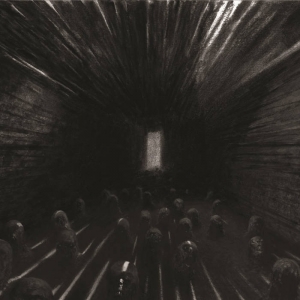 Release Date:
Wednesday, November 25, 2015
There are some things in our world which must rest eternally. But sometimes, in the deepest caves of the earth, where no light shines, there is a sound that echoes under the stones and wakes our nightmares… Still feeling comfortable?
Low Cave Sounds are a new project by Frenchman and tortured soul Aimeric 'Hangsvart' Lerat, known from great outfits like Plagueprayer, Caelum Natus Ex Mortuus, Catacombed, Abysmal Growls Of Despair (review for Dark Days, see update April 29th 2015, the one for Between My Dead was uploaded on December 24th 2015) and more. This new outfit brings comparable wretched unhappiness, canalised through an aural execution.
Voices In The Ground is a double-album, released in an edition of 103 copies via one of Russia's finest labels, Frozen Light. It lasts for more than one hour and a half (twelve compositions, lasting in between six and ten minutes). Everything was written and composed, mixed and mastered at the Bone Eater Studio by Hangsvart, and the great artwork (quite unique for sure) was create once again by Olga Matveeva, who did some more things for Frozen Light (Catacombed, Old Man Of The Desert, Shades Of The Black Sky, Astarium, Arsenne-Cisak-Oleksinski).
The album opens with Dank Stones, which brings a lo-fi form of feedback-Noise, based on minimal sounds and droning-industrialised noises. And that's somewhat the setting for most excerpts of this experience: a composition of minimalistically executed low fidelity Industrial / Noise / Drone with some harsher sequences and field recordings, and hints of Lovecraftian obscurity and occult-ritual mysticism. With a track like Bone Eater, to start with, that eerie Lovecraft-alike atmosphere comes to its peak by the use of brain-piercing electronic sounds and the unworldly voices. Evil spirits from the Underworld guested as session vocalists, I guess… Those throats from Hell return in several titles, deeply drenching the atmosphere in an ugly, claustrophobic, scarifying (red: putrefying) stench.
In general, seen the length of the double-album, and the mechanic progression of the creations, Voices In The Ground turns out to be quite a difficult result. It's almost impossible to pay attention as from the beginning until the end. It needs persuasion to endure, but it might cause satisfaction at the end. Fans of harsher Drone / Noise material will adore this piece, but those who prefer some 'melodious' ambience better skip this recording.