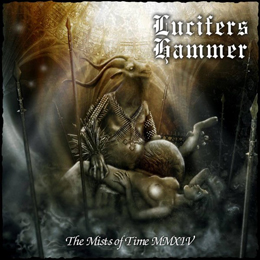 Lucifers Hammer (to my humble opinion written this way, and not as lucifer's hammer, without the ' in between the 'r' and the 's' – but of course that is of no major importance, yet being a purist, since I am searching for the most corrective way to inform you…) were an act from Michigan, formed in 1986 and creators of some demos and two albums, 1997's The Mists Of Time and 2001's Ghosts Of Fall. After that second album, the band split up.
I have to admit that I wasn't that enthusiastic with the first release (I even didn't buy the second one), but since this re-release of the debut full length comes with one of the demos as bonus (1992's The Burning Church), I can appreciate this re-issue with respect for Destro Records (actually I thought this label was put on hold, but I seem to be mistaken…).
And I need to apologize. I haven't listened to this stuff anymore in more than fifteen years, probably, because at that moment I couldn't fully appreciate their independently released debut. But how I was wrong! Actually this stuff is quite enjoyable. It starts with the short intro (also the title track), which immediately seems to grab my by the bal…, by the throat, I mean. But then, as from Woodland Realm on, I am totally blown away by this nice-balanced Black / Doom-Death Metal. Lucifers Hammer's compositions are of a mostly varying kind, going for the speed in the first place. They easily combine ultimately slow pieces with violent outbursts, and it sounds so natural. And what does lift them up is their unique approach. Their down-earthed, low-tuned tracks come with some female whispers / spoken words, grandiose keyboard lines (cf. the likes of Torchure, Phlebotomized or Sinoath) (like that grandiose intro on Sad Birds Midst), and fine-tuned (Heavy / Thrash Metal-alike) solos. It does give the whole a very obscure, grim and mysterious feeling. Also bells, Gregorian chants, piano, the obliged acoustic guitars etc. strengthen that fabulous idea. And with compositions like Ethereal Sea Of Forever, there are even funereal Doom-injections.
Even the Bathory-cover is grandiose. I've heard hundreds of Bathory-covers throughout my career, and so often I was totally disappointed. Even the tribute-albums aren't always that remarkable (exception: In Conspiracy With Satan). But this version of Enter The Eternal Fire is almost as impressive as the original ('almost', because it is impossible to reach Bathory's greatness, evidently…). There are no fillers on this album, on the contrary. Some pieces are great, others are just sublime.
The bonus-demo The Burning Church comes next. This stuff was written and recorded during the earliest Nineties, and it must be considered as rather 'traditional', seen the existence back then of what is now labelled as Second Wave. Yet even then it was clear that this band came with something that did trespass the 'average'. Injections of Morbid Doom-Death were used, and even then Lucifers Hammer used some synths to make their darkness even more abyssal.
Mea culpa, mea culpa, mea maxima culpa, but I did underestimate the qualities of this defunct band. I am sure I am about to listen to this material several times again as from now on – that's a promise to myself. So, each fan that didn't listen to this stuff either, take notice and jump into your collection to search this album once again. And to those who do not have this album yet: this is your chance!