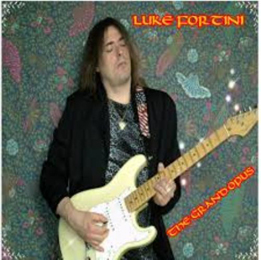 Release Date:
Monday, September 22, 2014
And...Casket Music/ Copro Records catch-up, part five (for details, see David J Caron review posted a couple of weeks ago)!
Although Luke Fortini (actual name Luca) is presented to us here as an individual artist, he is not an unwritten entity within his country's musical community, from which he's even gone international playing guitar in Paul Di'Anno's band from 2002 to 2005 (playing many gigs allover Europe).
Luca apparently did his first steps in music in 1995, playing with the band Storm Seeker, which is still on his "active bands" sheet today. In 1999, he also joined the Technical Death Metal act Hateful (at least for some undefined time), and he's played with Children Of The Damned too. In 2001 then, he also joined Angels Fall (also still active – no albums known), and as mentioned before, he was the guitarist for Paul Di'Anno for some years. From 2006 to 2007 he became the guitarist of a local Italian Rock covers act, which went on to win first price at a regional music contest. From January 2008 to February 2009, Luke then joined the Progressive Power Metal act Black Wings, which went on to share stages with the likes of Seventh Wonder, Circus Maximus, Vision Divine, and André Matos.
Born in 1977, Luca has been playing guitar since the age of 14, taking influences from the likes of Iron Maiden, Guns N' Roses, Ozzy Osbourne, Yngwie Malmsteen, and Joe Satriani, but also from classical composers such as Bach and Paganini. In fact, on the sideline Luca (as Luke) has already independently released three previous instrumental albums, these being the 2005 Luke Fortini, 2006's Sonic Barrier, and 2009's Space Travel (which was given national distribution through Videoradio Distribuzioni).
This "new" album is a perfect display of these varied influences, Luke on the one hand bringing own compositions (half of the 10 tracks), and on the other bringing his interpretations of some music by Classical composers (Pietro Domenico Paradisi, Modest Mussorgskii, and of course Paganini and Bach). As it worked out, the whole is a rather varied album, with the wicked "Crazy Fingers" making the best of both worlds with speedy finger-picking notes payed in a high-paced neo-classical tune and ending in some truly wacky way (almost sounds like a video game's sound). In between, the fans of Joe Satriani and Yngwie Malmsteen will most certainly find everything to their liking. So, if that is your scene, then discover this man's work for sure. At the artist's page on (www.) coprorecords.co.uk, you'll find links to the artist's page on MySpace as well as his own site, which re-directs to YouTube, where Luca's posted several videos for you to watch. All I can say is...surf on over, and enjoy!