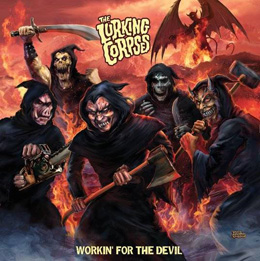 Release Date:
Saturday, January 24, 2015
It took quite a while, for The Lurking Corpses' last album was released in 2008 (Smells Like The Dead). Okay, there was the re-issue of their 2003-debut 23 Tales Of Terror in September 2013 (update of the review undersigned did: see October 19th 2013), which was re-released to celebrate this band's tenth anniversary, but new stuff, no, that has been too long, way too long. Until now… This band from Indiana, U SS A, have always amused me with their Horror Metal, though not one effort I know from them was really mind-blowing, I think. But it has always been fun, and a pleasure, to listen to a new The Lurking Corpses-album. What about Workin' For The Devil?...
This new album consists of not less than fifteen 'songs', having a duration of fifty seven minutes. Once again, it is a combination of different old styled trends (though, the nomination 'trend' is way too pejorative, for The Lurking Corpses spit on trendiness): Heavy and Speed Metal, Doom and Death Rock, Horror Punk and Thrash'n'Roll, injected with elements from Death, Thrash and Black Metal… (only as from the second half of the album does include some influences from the Death / Thrash / Black-scene, cf. the earlier works of the band – and that is why I, personally, think that the B-side is more impres…, I mean, is less annoying than the first half…).
What if you mix Misfits / Samhain / Danzig, Macabre, Guns 'n' Roses, Mercyful Fate, October 31 and Vladimirs or Midnight? Then you will get close to The Lurking Corpses' approach. …but unfortunately, the average quality will be beneath… Seriously, I have never been that enthusiastic about any former The Lurking Corpses recording, but unfortunately I can't see any positive evolution. I appreciate the simplistic, uncompromising approach, but be honest: such no-nonsense sh*t, it's something even my eight year old son can … No, that is not completely true, of course (my oldest son is seven, you see…).
Hells Headbangers have quite an impressive roster; I have always been 'into' their stuff. Check out the different 'specials' I did before, or the many individual releases. In the next couple of weeks, by the way, we will update new stuff by the likes of e.g. NunSlaughter, Nekrofilth, Atomic Aggressor, Perdition Temple, Shed The Skin, Goat Semen and many more, and you'll notice that the stuff by The Lurking Corpses, and that's a pity, is less interesting, I'm afraid. Sorry, but once again, I am very disappointed. I'm hungry, but there's nothing to feed me. I'm horny, but there's nothing to satisfy me. I'm happy, but there's nothing to depress me. Cross out that what does not fit… (note: it has something to do with personal happiness and a lack of depressing subjects, for there are plenty in Man's life…).