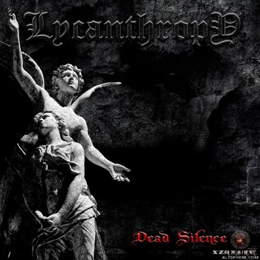 I don't know anymore how many Extreme Metal acts there are with the moniker Lycanthropy. But this review deals with the extremely productive one from Orel, Russia, close to the borders with Ukraine and Belarus. The city of Orel, by the way, isn't that far away from the city of Voronezh, known for a very vivid Metal-scene, and house of another act called Lycanthropy (though defunct in mean time) – FYI. This band release several demos, EP's and full albums in mean time, and currently they are signed to Lower Silesian Stronghold, one of the finest labels lately. But this review deals with the EP Dead Silence, which was released via another majestic label, i.e. Illinois-based Metallic Media.
Dead Silence was recorded by the duo Furious (vocals, lyrics [¹]) [²] and Gunner (guitars, music), once again helped out by session bass player V at the Furious Eternity home studio ([¹] the lyrics are in English, but they used to be in their mother tongue during the early years) ([²] Furious is also in Nosce Teipsum; we updated the review for the At The Heart Of Hell-album, which was released via Metallic Media as well, on October 26th 2014). The seven tracks last for twenty minutes and it opens with a short untitled intro. Then come two own songs, Oppressive Catastasis and the title track, which bring very intense and powerful, overwhelming and grim Black Metal, definitely rooted in the tradition of the misanthropic and Satanic Old School (the Second Wave-trend more specifically). In the vein of that current, these two tracks sound both melodic and aggressive, with a hammering tempo and an obscure atmosphere. A soundtrack for War it is, showing no mercy for our sickened eardrums. Then the untitled outro brings sh*t à la the intro, i.e. a sample followed by metallic aggression.
There are three bonus songs. The first two are cover tracks taken from the Former Glory… tape (released in 2010 via Depressive Illusions Records on cassette only), i.e. a cover by Impaled Nazarene and one by Ashen Light. Both of them are aurally redefined by Lycanthropy, and that isn't but fabulous to notice / to hear / to experience. These two have been released as well on the Black Souls Rebellion-split (with Bane, Warfield, The True Endless and Ancient Reign). The last track on this MCD is the Savavovchenko Remix of You'll Get A Hell, which Lycanthropy did not participate in. though I can appreciate this version, I do not think it fits on this album specifically, but it is a nice addition for sure.