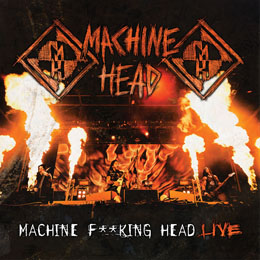 Album Title:
Machine Fucking Head Live
Release Date:
Monday, November 12, 2012
Machine Head is an American trash metal band from Oakland, California (Bay area). The band was formed in 1992, and was founded by Adam Duce and Robb Flynn. The band came to life when Flynn felt musically unfulfilled in previous band Vio-lence and requested to start a side project. When his request was denied, he left the band and formed Machine Head in 1992 with Adam Duce, Logan Mader and Tony Constanza. Though the band's first album named "Burn My Eyes" was a huge success
It got quite for the band in 2001 as the band nearly disbanded after negotiating off its label, when controversy surrounding Machine Head's fourth album. The album got released not so long after the terrorist attacks on 9/11 and contained a song called "Crashing Around You". Making itself unpopular with the mainstream. But that same record even wasn't welcome in the underground with the true fans of the band. According to them the band had changed to much and wasn't true to itself.
After that lesser period, the band gained their fans (and new ones as well) back with the release of 2 more albums called: "Through The Ashes Of Empires" and of course the album of the decade "The Blackening".
After a wait of 3 or 4 years since that album of the decade, the band is back with their latest record called "Unto The Locust". And now to top it of again the band released a live album (witch a lot of people were waiting for). So yes they have put the classics on there like Davidian, alongside more recent trashterpieces like Locust, Aestetics Of Hate,…..
But i have mixed feelings about the record. Although it is a very good live record (fantastic atmosphere) with a kick ass set list. But my issue with this album is in its editing. It's actually a collection of song recorded at different venues and you can hear it a bit to good where they pasted the different parts. Apart from that it's killer.