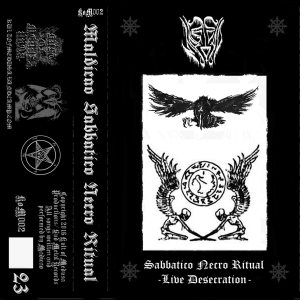 Album Title:
Sabbatico Necro Ritual – Live Desecration
Brazilian trio Maldição are, to my knowledge, quite a young band, and there is not much I know about them. Pat from mighty Avitas or Kabexnuv (and Bud Metal Records) told me this stuff was too interesting to ignore, and he did refer to this release specifically (thanks pal for this opportunity!). It deals with a live performance of the band (being Belzebufalo, Grim and Mortalha), done on May 21st 2016 in a bar called Mofado Bar as part of the first Purify By Fire gigs, added with two demonstrational songs. The cassette is limited to 23 hand-numbered copies, by the way!
Actually, it was quite a harsh, merciless performance that evening, with these three guys exhaling the essence of the thrashiest side of 'true' Black Metal. Barbaric, bestial, grim and malignant, these are a couple of words that define the un-majesty of these live rituals. It's live a revival of the late-Eighties nastiness, including the blaspheme outbursts, the ugliness of the scene… Seriously, those compositions are like a wet dream on a cold winter night
Sound-wise it does suck, these live songs. You hear the qualities of the players, but the sound is truly inferior. Okay, it's like the reality, when going to some underground gig in a venue filled with the odour of smoke, beer, sweat and remnants from the past (I was about to add a smiley, but I could control myself). No, it's a pity. It's the reality for sure, but some minor additional sound-mix could / would / should have created that little surplus. Nothing more to add about this matter…
The rehearsal tracks, well, sound-quality-wise, as you might guess, there is not that much 'positive' to mention either, of course. So let's skip this detail. From compositional point of view there is much more 'positive' to add. Okay, it has not to do with originality, yet with honesty, with tradition, with the rawest and harshest view on the scene, seen through spectres of blood-soaked glass and… Oops, I was going into poetic air… But imagine this: Maldição entering a decent studio, recording (some of) these compositions with assistance of a professional producer or engineer, with a limited level of mixing (not too much, to avoid fakeness), and the result would certainly please at least one human entity on this globe (hello, here I am). With this release, I can see potential, but I can't fully 'enjoy' the result, but I think this band might one to look out for!