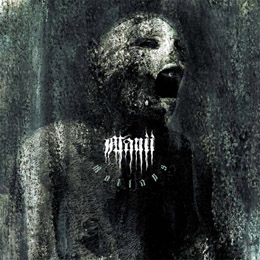 One of my all-time fave' albums within the Norwegian Black Metal scene is Manes' Under Ein Blodraud Maane (Hammerheart, 1998). This project did release two other albums afterwards (Vilosophe and How the World Came To An End), but they were very different, almost incomparable to the debut.
Why do I mention this? Well, this review deals with the album Kollaps by a new project called Manii. Manii's key members are Cernunnos and Sargatanas, both of them original / founding members of Manes (initially known as Perifa, by the way). And why referring to their legendary debut? Well, Kollaps is what had to be the successor of Under Ein Blodraud Maane, for having a comparable sound and approach in many aspects. It lacks of any comparison to both other Manes-records (no electronic experiments whatsoever). It certainly isn't a copy of the debut, but it is covered within the same veil of grimness and bleakness.
After a five-year break, the duo reformed under this new moniker, and earlier this year they did sign to resurrected Avantgarde Music. This first brood is, as mentioned, called Kollaps (meaning: collapse) and lasts for forty minutes.
The album opens with Skoddeheim, a gloomy, suffocating, blackened Funeral Doom hymn, hypnotic and obscure, ominous and oppressive. And that's the way it goes on. Hail desperation! Slow yet melancholic, abyssal melodies with wretched vocals, eerie keyboards, creating an atmosphere so dense, so cold, so depressive…
I wouldn't have been surprised if this album should be released through Moribund or Debemur Morti, for Kollaps equals both approach and level of most of these both labels' projects.
For fans of everything in between, let's say, early Manes of course, Italian act Urna, Blut Aus Nord, Moon (the one from Australia, of course), Thrall, early Shining, Tenebrae In Perpetuum, Ahab, I Shalt Become, early Forgotten Tomb, Abstract Spirit, So Much For Nothing, even Burzum and earlier Darkthrone in some aspects.
…aural beauty for the Happy Ones…