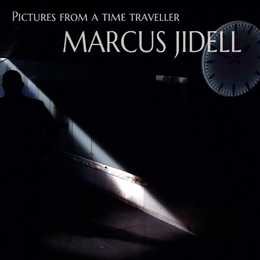 Album Title:
Pictures From A Time Traveller
Marcus Jidell you know of course as being the guitarist from Evergrey.  Like Yngwie Malmsteen he's also from Sweden, and a fantastic guitarist. With this album he goes solo.  The songs go back to 2005 and were from a project that ended unfinished in 2008.  And while I'm absolutely no fan of pure instrumental albums, this one managed to draw my attention.
Not that I find it a fantastic album, and that from now on I'm a total convert towards instrumental albums, but this one offers enough diversity, and is complex enough, without it getting overcrowded or too complex.  It shows of that Mr. Ridell is a very talented guitarist, but without it getting boring, like I usually think instrumental albums do.