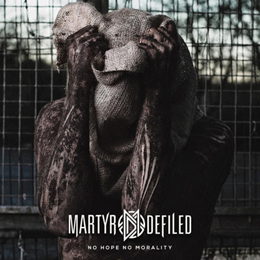 When Martyr Defiled debuted with their full length Collusion, they were sort of catapulted to the top of the scene in the U.K. Also, they built up an enormous 'popularity' for their extreme live performances. In mean time, Martyr Defiled shared the stage with the likes of The Black Dahlia Murder, Thy Art Is Murder, Despised Icon and All Shall Perish. Also in mean time, the band released an EP, 2012's In Shadows (and if I'm not mistaken a single too, called Infidels). And now they return with the second full length, which was mixed and mastered by Andreas Magnusson, known from his collaboration with bands like Despised Icon, Scarlet, The Agony Scene, The Black Dahlia Murder, etc.
No Hope No Morality stands for over forty minutes of very technical Modern Death Metal / Deathcore, with edges of Metalcore and Thrash Metal. The album is an aggressive mix of power and violence (no Power-Violence), grooves and breaks, with blasts and experimental hooks, and above all: with a gargantuan, monolithic production. And that might be a first problem: the sound is way too clinically polished. It is as if the mediocre quality of the songs gets denied behind a monstrous noise to hide the lack of good compositions. And with this I refer to incoherent song structures, exaggerated details, and the infantile lyrical approach (the number of fuck-offs shouted throughout the album is truly pathetic).
Comparisons to the likes of Job For A Cowboy, Anima, Days Of Betrayal, Thy Art Is Murder and Carnifex aren't that far away from the truth, but this material truly is of a minor level.