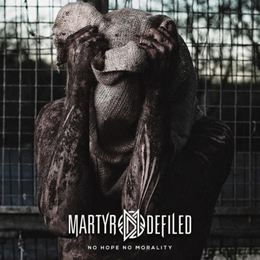 (read with exhalted voice) Guess what? I somehow got it in my head to make the introductory words to this review, as if it were a nature documentary. Wanna indulge me? Okay then... (now read on with a semi-deep, moody, but captivating, dramatic voice – Richard Attenborough-style, perhaps?) Situated at about equal distances (that being around 65 km) from Nottingham in the SW, from Hull in the NNE, and from Sheffield in the WNW direction, is the community known as Lincoln, in the English province of Lincolnshire. It is the natural habitat of a gathering of youngsters who have been known under the monicker of Martyr Defiled since 2008, year in which this band released a 2-track demo, which attracted the attention of the Leeds based record label Thirty Days Of Nights Records.
Apparently, the label was extremely taken in with the specific hybrid of early millennium Hardcore and the Blackened Death Metal antics (of such bands as Behemoth and Dark Funeral) which these youngsters produced as a passtime (note that for the band, it's apparently the Hardcore part of their music, with its sensibilities for politics, society, and individual behaviour which is the most important in that equation), and therefore signed a deal with them to give the band's first 5-track EP, entitled Ecophagy, an official release in February of 2009. Its limited 1000 unit pressing would be sold out within the next six months, aided in this by supporting tours with All Shall Perish, Annotations Of An Autopsy, and The Red Chord, not only bringing the band's music all over the UK like a wildfire epidemic, but also on the European continent! With over a hundred shows that same year, the band's fanbase grew exponentially, and it could simply not be avoided that the band drew the attention of the people at Siege Of Amida Records, following which the members finally had a break from having their equipment and van stolen, going through a multitude of member changes and frankly, living in poverty. Hardcore the truly tough way, Baby!
Okay, so I guess I've veered slightly off the "nature documentary" track here...never mind! SOAR released the debut full-length Collusion in 2010 (same year as in which the non-album 1-track single Plaguebearer was issued – though I have no idea whether the band did that on an individual basis, or through their new label), and the band continued its constant live assault on both British and Continental Europe's soil, partly through support tours with The Black Dahlia Murder and Despised Icon. No small bands within the "extreme music" scen, and by being able to expose their music to those band's fanbase, MD was able to expand their own even more. 2012 came, and the band was not ready yet to release a new full-length album, so in stead SOAR released the band's 7-track EP (well, I'd rather call such an effort a mini-album, but who am I?) in September of that year. To make things up to their fanbase, additional non-album singles Lifeless and Infidel were released, respectively in January and September of 2013. Throughout, the band has not let off its busy gigging schedule, but the guys also continued to compose new material, proof of which we now find on this, their second full-length!
Which brings me to the core of this review: the band's music! Well, one thing I can tell you, even after the first listening session...these guys are angry at the state the world is in. That's something which exhumes from every track on the album! Not only from the often dual vocal stylings (with their mix of Blackened and growled lead & backing singing), but also through the dual layered guitar attacks, sudden breaks, and occasional surprisingly atmospheric passages.
The band, which currently consists of founding members Matthew Jones (lead vocals) and Richard Duffin (drums – he did take time out in 2009 and 2010, but came back to the fold after) and guitarists Ryan Smith and David Trees (the latter having joined already in 2011, and also still active with the band My Last Victory), is currently apparently without a bassist (well, they may have added a new member since last updating the scarce info which is exposed on the band), but whether they simply use a hired hand, or find someone to play the bass on a permanent basis, has certainly come up in the world over the years, as their growing fanbase was certainly what convinced such companies as Peavey and Orange (amplifiers), Rotosound Strings, Sczymtek Cymbals, Vater Percussion, and the Skull & Bones Boys Club, to affiliate themselves with MD. Now I'm not suggesting that the band members are now capable of sustaining themselves with their music, and possibly making a buck on the side...but with No Hope No Morality (a bleak title, but one only has to check the daily journals to know that that title definitely has a reason of existence) the boys should definitely get up another step on the corporate music business' ladder!
For those needing live experience before becoming fan of a band and buying its albums, I have to say that I have no idea of the band's gigging schedule at the moment. I mean, the band has a MySpace page (which I was unable to check) on which tour dates might be posted, so by all means check that out. For those into music at home, you can listen to some older music (3 songs) at (www.) facebook.com/martyrdefiled, and you'll find no less than 8 "audio" (and 1 actual) videos (alongside  videos of older tracks) for tracks off the new album, at (www.) last.fm.ru/music/Martyr+Defiled. Quite sufficient to make your acquaintance-making with the band, I should say! Darn, and every time I listen to the album again, I understand the qualities of their music more and more, discover more and more atmospheric passages in each song, than when I heard  'em the time before. This is creepy, I tell you!
End conclusion? Make one up for yourselves, but I for my part am adding this album to my year-lists!