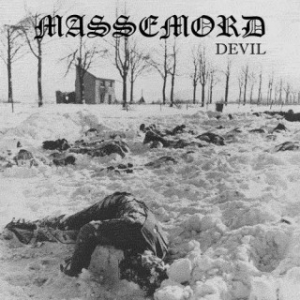 This is a like-or-not thing, Massemord. I think they did some great things in the past, despite quite a turbulent history. Actually this project was formed as a solo-outfit of a Norwegian guy (Lord Hastur), then joined by some other members. Eventually Lord Hastur left and both other members continued, followed by other changes in line-up, trespassing the borders with Italy, and so on. I do not feel like going to deep into the subject right now; you might find some additional info on the net, of course.
Let's focus on this mini-album, which was created by guitarist / bassist Gilberto 'Barren' Perri at the Into The Pit studio in Rome, Italy. This guy joined Massemord in 2006 or so. On this album he's helped out by drummer Diego 'Aeternus' Tasciotti (think: Shadowsreign, Lord Vampyr, Nailed God, Pavor Nocturnus, and of course Satanika (a collaborative entity that sort of gathers the Massemord-creatures too)), who is active with Massemord since the end of last decade, then he left, before joining the crew once again. Vocals are done by Oleg Volkov, who left the musical scene after the rest-in-peace-thing from his Syny Severa-project; though apparently he did something under the name of Oleg SS & DJ Holocost 88 too. Indeed, a happy one everyone wants to be befriended with, hehe.
Anyway, these three guys recorded the album Devil (and a new one too, in mean time), once again spreading words of inter-racial tolerance, eternal peace and universal freedom. Say no to war and give your foreign neighbor a big hug, you know, that kind of sweetness.
And now for real: Devil is a six-tracker that lasts for twenty seven minutes. After quite a scary intro, called The Face Of Evil (sort of a mixture of asphyxiating Dark Ambient and industrial expressions of suffocating intolerance…), this mini-album brings high-standard grimness avant and après la lettre. This is a schizoid, unstoppable sonic force against forgiveness, tolerance and peacefulness, translated through full-force and quasi-grinding Black Metal assaults, blasting eruptions of Black-Death-Noise and Post-Apocalyptic madness. This goes for about every detail: the hammering and pounding rhythm structures, the frenzy and gurgling Sulphur-spawning screams, the epic yet merciless riffing; even the skin-scraping sound strengthens this atmosphere of total destruction and annihilation. And then again, in balance to this mind-torturing madness, there's that fabulous and fine-crafted epic glory like in Sufferings; simply hymnic! One of the best songs I've heard for quite a long time!
War ain't over; it has just begun. Join the ultimate soundtrack to support our cleansing! Hail!
84,88/100