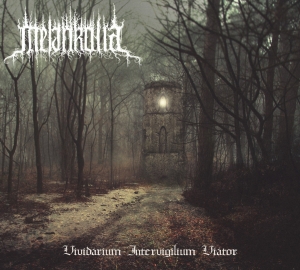 Album Title:
Vividarium Intervigilium Viator
Release Date:
Tuesday, December 12, 2017
Mike O'Brien is one of the members of Symphonic (Black) Metal act Appalachian Winter, he's the guy behind the fantastic droning Dark Ambient act Veiled Monk, and he used to perform ritual Ambient Music too under the Ritual In Ash moniker. Another solo-outfit he runs is Melankolia, with a modest yet highly interesting discography.
Welcome Vividarium Intervigilium Viator, the fourth full length under the Melankolia moniker. The project signed to the fabulous Hypnotic Dirge Records roster, known for its happy and joyful releases, ergo Melankolia's newest effort will surely fit! Yeah… No, seriously, this album is a nice addition to this label's permanently growing roster, for it represents desolation, introspection and grief. Okay, it is not 'Metal' at all, but it is not the first time that Hypnotic Dirge Records come up with non-metalized material; it's all about the concept of the atmospheres represented (which I just stated: desolation, introspection and grief – and more of these depressing aspects).
Anyway, Vividarium Intervigilium Viator is a ten-track creation, lasting for sixty-seven minutes, being released the digital way, as well as in a four-panel digipack. Music-wise, there are two directions being active, sometimes operating separately, sometimes acting in a beautiful symbiosis. At the one hand, you have those contemporary Classic Music compositions, based on piano especially. At the other hand, there are those mesmerizing Dark Ambient pieces, keyboard-played, occasionally including percussive elements. And then there are some crossovers too. Still, even if it's the one or the other style being performed, there is a huge differentiation within that specific approach as well. On top of it, Melankolia add some samples and field recordings, strengthening the compositions by the depth of their meaning, or just creating an additional sphere on top of the deepest meaning behind each song.
Let's take the opener Ambrosia, as representing example. Melancholic, yet truly beautiful piano melodies go hand in hand with dreamy, hypnotic and astral synth-based soundwaves, evolving into a floating, esoteric, even meditative symbiosis. Eventually, the use of simplistic yet prominent drums enter, adding a dimension of contemporary activities. The Crowning of Autumn, for example, is an example of integrity, and beauty, that typifies the pieces that focus on classical piano-based melancholy. This specific track, for example, also comes with violin-alike instrumentation and 'heavenly' female voices, and breathes an ethereal purity. Other pieces are rather focusing on Drone / Dark Ambient aspects, sometimes ominous and scarifying, then again transcendental, hypnotic, mind-escaping.
Vividarium Intervigilium Viator feels emotional and introspective, as if Mike wanted to tell a personal story, like an expression of feelings that characterised his raison d'être, as a contemplation, a reflection, or an explanation, if you want, for life-bound situations. He succeeded, for I am looking back on my past, and pondering about what's next to come. This album is the ideal soundtrack for such introspection!