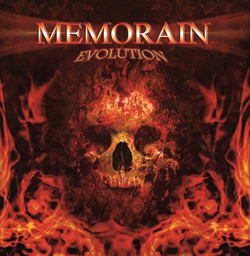 I wonder what Ilias Papadakis had in mind when he started the Memorain-project at the transition of last millennium into the current one. Bringing 'evident' Death / Thrash, just like that? Or doing it with a fulfilment of heroic dreams?
Well, those who are trusted with the albums Digital Crimes (2002), White Line (2003) or Reduced To Ashes (2006) might have noticed that Memorain isn't just a coincidence; on the contrary. But you might meet the description 'super-band' for sure, and who's to blame?
After six years, Ilias returns with a new album, recorded by himself, of course (he's a technically crafted guitar player), with assistance of… and please do not forget to breathe: Gene Hoglan on drums (ex-Death / Dethklok / Old Man's Child / Wargod / Death / Dark Angel and tens of others), bass player Steve DiGiorgio (Testament, Dragonlord, Sadus, Death, Charred Walls Of The Damned, etc.; also check, for example, the review on the new Anatomy Of I-album, posted on 31/10/12, or Ephel Duath's newest effort, updated on 16/09/12), Chris Valagao on vocals (Zimmer's Hole, SYL, Mechanism, West Of Hell and so on), and Ralph Santolla on guitars (think Death, Deicide, Iced earth, Obituary, Ex Cathedra and many more).
And that's not all. He did not only work with (t)his 'dream team' to compose this album; Evolution features many guest musicians as well – please continue.
Opener Nations On Fire is an Old School Thrasher with a couple of timeless elements, yet focussing on melody and technical experience à la eighties - early nineties. It's a honest hymn, catchy and epic, including some clichés yet of the most acceptable kind. In the very same vein, several other tracks continue, yet all of them with a specific detail that separates them from the others. Where Hate Lies, for example, is such a song, fully stuffed with power and speed, yet never betraying the roots of the scene. The same goes for a melodic, catchy track like Death Shop too, which brings a Chris V. in his uppermost qualities. Some tracks include elements from Death Metal as well, and evidently also inspired by the earlier years, especially the USAmerican ones too… What else did you expect? Rules Of Engagement is the most 'modern' track on the album. It was written by Ilias and Ralph Santolla with assistance of Tim Owens (Iced Earth, Charred Walls Of The Damned and many more; he contributes with the sometimes Halford-esque vocals, yet not the high-pitched ones, on this song) and David Ellefson (ex-Megadeth, Enemy Of God, F5, Temple Of Brutality a.m.m.; David did record the bass parts on A New Era as well, a song that also features a guest guitar solo by Annihilator's Jeff Waters, by the way). Methods Of The Past, with a guest solo of ex-C-Real's Carlos E. Perez, is groovier than any other track on Evolution. Destiny Found might be one of the most asphyxiating ones on the album, featuring a guest solo by Dreaming Dead's Laura Christine. The only song that might differ just a very little from the whole must be Scratching The Surface, but it's the only one not (co-) written by Ilias. The music was done by Steve DiGiorgio, the lyrics by Chris Valagao and the song comes with guest solos by Future's End's Mark Pattisson and Christian Wentz.
This material is, without any doubt, highly recommended to every single person who does like the North-American Thrash scene from twenty to thirty years ago, no matter if we're talking about California, Florida or New York… Thrash from the heart…
Favourites: the ultra-brutal Misery (what an opening riff!), Destiny Found, Where Hate Lies and Death Shop, amongst most others.