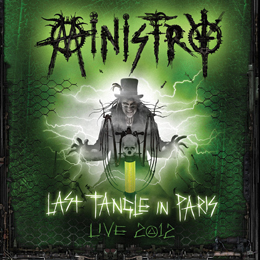 Album Title:
Last Tangle In Paris – Live 2012
Whilst this album is called 'Last Tangle In Paris', the filming of the DVD actually took place at Chicago's Vic Theatre in June 2012, is a Mistery to me and probably to most people.
For Ministry fans, you get not only the DVD with about an hour and a half of material on it, the bulk of which consists of  concert footage and some backstage shots and also some interviews, but more importantly also 3 CD's.
 The material on the DVD comes for the biggest part from the most recent releases of Ministry and gives you a good view of what their shows are made of, where importance is given not only to the musical aspect of the show, but also to the visual aspect.  It may also well be that this is the last visual material that is released with their deceased guitarist Mike Scaccia, who died in December 2012.
The CD's are a collection of more recent material, and older work, recorded between 2006 and 2012. And while I'm not that big a fan of Ministry, because their music tends a bit too much to the trash genre,  there are songs I particularly can appreciate, like 'LiesLiesLies'.
This recording may, or may not be the last release of this band. While earlier rumours said that the band would finally quit after the death of their guitarist, now it seems a new tour is planned, where the last studio album 'From Beer To Eternity' will be played in it's entirety, so maybe some new material might still be released. Wait and see.