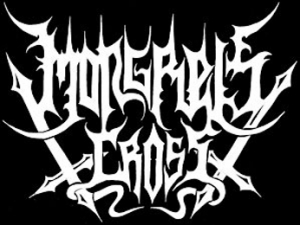 Hailing from Australia, Mongrels Cross are debuting fulllengthly on Hells Headbangers about one year after the highly acclaimed EP Whoresanna. In the vein of that 2011-EP, this first full length, The Sins Of Aquarius, stands for a mixture of barbaric and venomous Death / Black / Thrash Metal. The tracks are firm, fierce, brutal and pounding, with a nice balance in between fast and slower tempos (yet with a focus on speed, including some blasting eruptions).
Originality = 0, performance = 100.
For fans of: Crucified Mortals, Abominator, Bestial Mockery, Urgrund, Grand Belial's Key, Beherit, Gospel Of The Horns, etc.