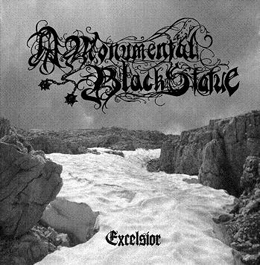 Italian act A Monumental Black Statue was formed as a more Pagan / NS-oriented outlet for some Criptum-members, but soon they became more active than Criptum. A Monumental Black Statue released three recordings before, and actually this one was originally supposed to be the second Criptum-full length. Yet since the latter did split up…
Excelsior has a total running time of almost fifty minutes and was recorded in between 2011 and 2013. It was done almost completely by D.H. (FYI: he's known as well from the likes of Venereal Baptism, Grieving Mirth or Exaltatio Diaboli), and comes with splendid landscape-photography. In the vein of the former material, and Criptum's, this new album brings an epic, victorious and melodic form of pounding, pushing yet quite energetic Pagan / Black Metal with a rather traditional basement and expressive Germanic / Nordic elements. Imagine (and keep some open-minded fantasy in mind!) a mixture of Kampfar, Absurd, Bathory (Hammerheart-era), Forgotten Woods, Falkenbach, Arkona, Graveland and very early Desaster (some riffs are purest Desaster-excellence). I know, it does not totally fit, and still it does too!
There is quite some variation on the album, going for the melodious structures (which include both folksy and harsh moments), for the speed (with slow-paced as well as fast-forward excerpts, and everything in between), for the atmosphere (sometimes it sounds as if a Roman cohort is marching forward to victory, then again these warriors seem to wake up, still being drunk, after celebrating that very same victory, haha), and for the execution (balancing in between technical and straight-forward, in between glorious and even more warlike, etc.). Also the sound quality is a surplus, for it lacks of modernist gadgets or surgically cleanliness, but it comes with that rough, unpolished edge which is necessary for this specific kind of sonic expression.