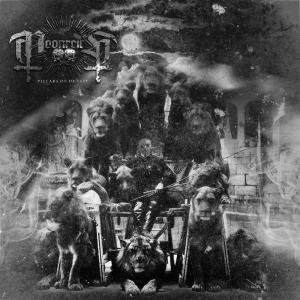 Release Date:
Saturday, September 19, 2015
Moonreich are a French one-man army, or at least for the better part is still is, and so it was in the past. At this moment, founding member Weddir is recruiting permanent members to help him out live on stage and in order to record new stuff in the future. But still he remains the main character in his Moonreich-outfit.
Pretty much the same counts for this album, Pillars Of Detest. Weddir did write all lyrics and music, and he even took care of the lay-out of the album. He was helped out on drums by a session musician, and if I am not mistaken the same for the bass parts (?).
But anyway, one of the shortest reviews I ever did was for Terribilis Est Locus Iste, the last full length by Moonreich (released via ATMF). You can still check it out on the update of July 20th 2013. And the shortness didn't have to do with disappointment or boredom; on the contrary, I thought (and I still think!) that it didn't need much more writing by undersigned's hand. It was just top… After that release, by the way, Moonreich did a European tour with Vital Remains and Gorgoroth, and they did a headline tour in their home country too. And of course Weddir started writing on this third full length album too. The material was recorded in early 2015 at the Paris-based Hybreed Studio with Andrew Guillotin behind the helm (think: Temple Of Baal, Monolithe, Glorior Belli, Nydvind, Sacrarium etc.). The result, then again, was mixed and mastered in Sweden at the Endarker Studio, with Marduk's Magnus Andersson (Panchrysia, Ragnarok, Hyperborean, Blackdeath, Satanic Assault Division and many more).
The lyrics mainly deal with (mono-theistic) religion and misanthropy, the twisted human psyche and the dark side of our mind. It's written rather metaphorical, so the listener can interpret the whole as he / she wishes to. The result of that self-interpretation might surely focus on this listener's own mental sickness. But then again, aren't we all part of the biggest earthly illness, called humanity?
Anyway, Pillars Of Detest lasts for fifty minutes and as from the first minute of opening track Ad Nauseam I am completely 'into' the game. In less than one minute, we can experience doomed atmospheres, discordant Prog-Post-vibes and deadened blackness… And then the journey still has to take off… Damn, what a progression, still maintaining the energy and force of the former recordings… For sure Pillars Of Detest goes on in a comparable vein, but I think this album is even more dissonant and weird, yet at the same time more creative and open-minded than any former effort. The influences of, let's say, Watain and Glorior Belli are still prominently present, but there are quite some hints of Wolves In The Throne Room, Wormreich, Blut Aus Nord, Bleeding Fist, Fides Inversa, or even Deathspell Omega or The Great Old Ones too.
Actually, each single piece has an own story to tell, at least sonically. Some parts are quite intense, fast and energetic, while others are rather cooled-down and slowly hammering-forward (isn't this a remarkably fine description?), carefully balancing in between progressive and dissonant post-modernism at the one hand, and the (relative) safety of traditional structures and basics at the other. That's a strength, an advantage, a positive characteristic for Moonreich for sure, because the whole sounds so 'natural', despite the discordance and eccentricity that appears throughout the whole sonic travel. On top you have that grandiose sound, that fantastic mix and that ultimately coherent production, strengthening and empowering the whole session with passion and pride.