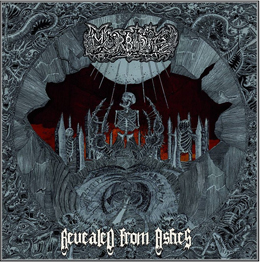 With exception of Hallucination, Necrolepsy and mighty Barzak (they changed their name in mean time), I think I have never heard of any Bangladesh-based Metal-band before. Don't worry; it's not that Bangladesh houses such a huge scene. But one cannot deny the qualities of the few bands that (seem to) dwell out there. Brings me to this band, Morbidity, also from the capital of Dhaka, debuting with Revealed From Ashes on mighty Memento Mori. They did release a split before, with material from their demo, but this album might be something that opens hidden portals.
Revealed From Ashes brings half an hour of rather traditional Death Metal, the kind that combines morbid atmosphere with a morbid sound and a morbid performance. Morbid… ah, that might explain the band's moniker, of course…
No, seriously, this is Old School-based and Thrash-injected stuff that made both the European as well as (North and South) American scene so 'popular'. Fast and brutal rhythms interact nicely with horrific melodies, injected with some fine-tuned solos, blasting explosions, raw-edged riffing and those deep, brutal, little guttural growls and grunts.
In a way, there are hints of very early Therion, Possessed, Merciless, Abhorrence, God Dethroned, Massacre and Carnage. And damn, a couple of times some riff parts even remind me to Leprosy-era Death. Okay, the surprise-effect might be totally absent right here, but I think this band comes close to that influential approach. For sure this album is very professional, and it does convince. I foresee a great future for Morbidity… I have spoken…