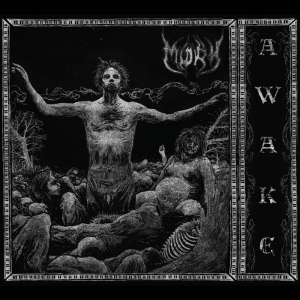 Release Date:
Tuesday, December 15, 2015
Just before they did split up, Brazil's Mork (named after the Swedish word for 'dark') did release their second full length album, more than three years after debut album Extemption. That second album, called Awake, was released by Brazilian Black Metal label Sulphur Records, and co-released by Eternal Hatred Records (also hailing from this South-American country). It's an older recording – the release was at the very end of 2014 – but with pleasure and passion I'd like to give some deserved attention to the band (even though defunct) and the labels involved.
Awake was recorded by Rafael Foizer (now he is part of Svatan, also on Sulphur Records), Samuel Borger and (session drummer) Victor 'Digger' Lucano (whom you might know from Miasthenia). It got released in an impressive edition of 1,000 copies on compact disc, so there might still be some copies available. Check out the label's Bandcamp page and do not hesitate to get your copy.
Anyway, the album consists of ten tracks that clock forty-seven minutes. Mork plays (played, I have to say, unfortunately) majestic and extremely powerful, overwhelming and massive Black Metal with elements from Death and Thrash Metal. The stuff is very melodic, with great leading melodies, fine tremolo riffing and extra-ordinary solos. They do sort of form the basic structure of the compositions, heavily supported – and with 'heavily' I do really mean HEAVYly! – by a fabulous rhythm section. Bass lines and rhythm guitars are of a magnificent quality, strengthening the melodious character of the songs. On top of it, the fabulous drum patterns are like the walls of an indestructible bunker. But it's the organic coherence in between all those instrumental aspects that is deeply rooted in professionalism and craftsmanship. Honestly, no matter if the song writing is good or bad (but it's good, believe me), this natural symbiosis is above expectation. Vocal-wise, there is quite some variety involved, with subtle interchanges in timbre, yet pretty convincing too. Foizer's throat is strong, deep and malignant, yet with some differentiation in how to spit out blood, semen and acid. Besides, there is quite some variation in tempo, with fast, even blasting eruptions, yet some doomed excerpts too. The latter create that magic atmosphere, which sort of characterises the conceptual raison d'être of this band's presence (once again, so sad that they did split up). Nice too is are the epic aspects. The band surely is not a Viking-inspired one (not unusual in Brazil, as you might know), yet their epic elegance equals the magnificence of some Swedish players (Unleashed, Amon Amarth etc. – and hey, they do not sound like them, for Mork are, sorry: were, blackened in atmosphere, yet seen from majestic-epic point of view, I think this comparation isn't that superfluous).
Other surpluses are the subtle use of some keyboard injections, and the fine, and not superficial, piano excerpts. Listen to find out…
Like usual, a short word about the production quality, which can easily be summarised into one single word: majestic! It's even quite clean (not of the clinically polished kind, luckily), yet maintaining a certain roughness. But the mix of all instruments (and vocals) involved, is enormously satisfying. The result creates a full, massive sound, which strengthens the glorious identity of this band.