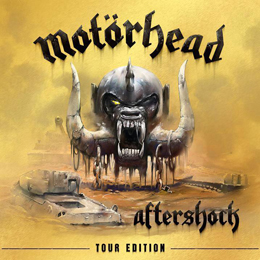 In 2013 Motörhead Released their 21st studio album 'Aftershock', and now UDR have repackaged the album and have added a bonus live disk.  I guess the reason behind this is because due to Lemmy's health problems they had to cancel a lot of tour dates, and since his health seems to be better now again, they've planned some extensive touring for this year, and this album might rekindle the interest in the band.
I will not be reviewing the original 2013 album, but will  investmy time in reviewing the live album. There are 14 tracks on the live album, including the ubiquitous ones, like my all time Motörhead track 'Ace Of Spades'.  If you ask me it seems as if some tracks on this album were played at a slower pace than they used to, but that might have got to do with Lemmy's health problems of course.
Also the over all sound of the album seems a bit blurry, just like Lemmy's voice does, but despite the slower pace on some songs, and the blurry sound, this is still definitely a Motörhead album, although I still prefer the 'No Sleep Till Hammersmith' album that was release over three decades ago. If they continue this way, I'm afraid we might be going towards the end of Motörhead, but hey, how many musicians can say they've had a career spanning over 4 decades, and still draw public to the concert halls, even if it's much less of a crowd that it used to be in the past ?