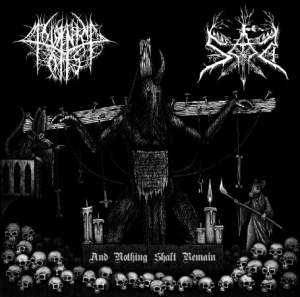 And Nothing Shalt Remain is an 'older' split-release on French (top) label Hass Weg Productions, done by Greek duo SAD (absolutely quite a productive outfit from Athens since, in mean time, more than a decade, and they have been on the Hass Weg Productions roster before) and French act Mourning Forest, who are totally less productive than their Greek colleagues. The album got released in an edition of 1,000 copies, and it comes with quite 'appropriate' artwork by Mourning Forest's drummer Moonshred (though, apparently vocalist / guitar player Balkor assisted as well). Each band contributes with five pieces, resulting in more than an hour of unholy gospels…
And Nothing Shalt Remain starts with the five compositions recorded by Mourning Forest, which got recorded with David Castel (you might know this guy especially from Manimal) at the Antistatic Studio (recording, mix, mastering). And as from the first notes of the opening piece Les Confessions Du Diable, I am convinced: Mourning Forest are top!
As a matter of fact, this four-piece (besides Balkor and Moonshred, Mourning Forest also consist of guitarist Borgur and bassist Nár) brings up-tempo and energetic Black Metal from the old school. It sounds absolutely epic, nicely combining hypnotic melodies with powerful rhythms and heroic lead passages. There is a specific rawness in both their execution and the sound quality, which I will come back to immediately. All ingredients result in an overwhelming result. The song writing (Balkor and Borgur both took care of some of their compositions; the first one being inspired heavily by the melancholy and battle-lust of the Nordic supremacy of the early nineties' era, while the latter wrote stuff rather searching for a symbiosis of war-marches à la early Desaster at the one hand, and the fierceness of the Scandinavian scene in a more general sense at the other) defines intellect, a clear opinion in what they have in mind as final result. It's build around those epic, victorious melodies especially, spices with a fast-paced structure (note: there are quasi no decelerations (*), and often that might be a relief, but in this band's case you get permanently pushed forward, wherefore points of rest aren't needed). Oh yes, quite important for those who are interested in the lyrics: they are in the band's mother tongue (French indeed).
(*) the last part of Artefact Maudit is a slow passage, but what a fabulous excerpt this is… I just wanted to share this (totally subjective, but hey what?!) information with you…
The production withholds quite everything that is needed for such recording. There is an unpolished roughness going on, giving the riffs a buzzing chainsaw-like sound. The vocals are prominently on the foreground, without overruling the instrumental parts, and they do sound so raspy, so grim, so venomous. I truly adore the mix as well, for this one gives an equal place to every single participant. Therefor drums, basses, rhythm and lead guitars and vocals come in a fantastic equilibrium, which has the advantage that the listener can deeply enjoy the performance qualities of each single member.
The second part of the split had been created by SAD with assistance of Jim Apostolou (known from his assistance to Slaughtered Priest, Devathorn, Kvele [this one being an outfit with both SAD-members] etc.). Their Black Metal is at least as epic as Mourning Forest's, and based on the tradition of the Old School as well. The up-tempo compositions are strongly guitar-based, with fabulous tremolo leads that constantly take the listener's mind to the glory of the Old Days. Actually, this overwhelming amount of prominent guitar leads (by multi-instrumentalist Ungod, who wrote the songs and who performs all instruments) is remarkable and, for sure, memorable. At least as important for this band's style-definition are the brain-piercing and flesh-scraping vocals, as if lyricist / vocalist Nadir macerated his vocal chords in a rusty barrel filled with nuclear-infected acid and a little swig of vinegar (no that last addition, I admit, might be exaggerated). All compositions hammer and pound (listen to those massive drum patterns, for example), with as result that my head bangs from the beginning till the end. But once again: SAD's existence isn't to compose and perform the nastiest Metal on Mater Terra (although they do), but to search for a nice balance in between mesmerizing and epic melodies and heavily pounding rhythms.
The sound is less 'decent' than Mourning Forest's. The anti-clinical result spawns hatred and defines the old styled attitude for sure, and there's a real 'underground' atmosphere going on. Still the mix is acceptable, but the equilibrium in between the different instruments is less manifest. Especially the lead guitar riffs and the vocals dominate the whole, with the rhythm section being but supportive. Is it a problem? No, I do not think so.
Eventually, And Nothing Shalt Remain turns out to be a monster-production. It's not only the length of the split that is honourable (both bands perform at least five mature compositions each), but the quality of both bands, going for performance and, why not, the sound quality (and in consequence the whole hostile and vengeful atmosphere), makes me wanna put on my helmet, saddle my horse, and ride towards battle. For glory! For victory! For death! For everlasting remembrance!