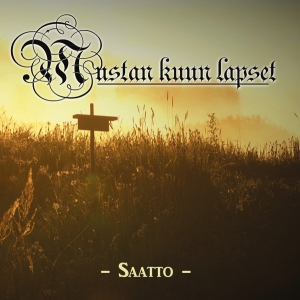 I can imagine that there were quite some happy human beings about two years ago, when it turned out that Mustan Kuun Lapset returned to the world of the living. With Kuolemanvitra, these Finns created quite a cool comeback, more professional than ever before, as if they've never been on a break. I invite you to check out the review for that EP, which was published on July 4th 2016. It was the first new material since 2007, when the band released its latest album, Viimeinen Laulu Kuolemasta (via Stay Heavy Records).
And now this combo of children from the black moon returns with a fifth full album, once again via the upcoming Metal label Inverse Records, offering the audience nine new tracks (forty-eight minutes of duration) under the working title Saatto (which means 'procession'). The quartet brings rhythmic and melodic Metal with an Epic / Pagan / Black Metal attitude, being quite catchy and grooving. Next thing will express a strictly personal meaning, but normally I detest those catchy efforts. Pop Music, well, that's radio play, and it does not concern me, nor it deserves my time or energy. However, there are a few exceptions, and often it has to do with the scene from Finland. In some way, the Suomi-based scene sort of succeeds to translate catchiness into an acceptable definition, and once again this goes for Mustan Kuun Lapset too – cf. my former writings on the band.
So, is there any difference right now? Well, not really, and yes. Still the band plays quite acceptable and organic Pagan / Black / Epic Metal with a very open-minded approach. It's 'Black' Metal, yet without the misanthropic 'I hate you all' attitude. It is not exactly something you will hear on the national radio edition in prime time, but hey, why not in a specific … No, sorry, I am going too far right now… I will return to my personal preferences, and Mustan Kuun Lapset is a band that catches both sides of my extremities. My personal preferences go to the furious, misanthropic and primal outbursts of Black Fucking Heretic Metal. It's been the case since the late Eighties, and I guess it'll be that way until I die (in the year 2666; I have not the intention to leave earlier…). Yet then again, I have to be objective too, being a mostly professional and internationally highly appreciated reviewer (don't you dare to add any comment right now). And whatever you turn it: this material has those elements that deserve attention. The play is cool, energetic, and permanently begging for your attention. And let's be honest: you can't deny the fine song writing at the one hand, nor the crafted execution at the other. Whether you like this easy-approach thing or not, you must accept the joy and the craftsmanship. Ignore the clichés (or enjoy them!), and go with the flow. Besides, this band once again succeeds to surprise with some exceptional things, like that grandiose Folk epos Tyven (!).
The song writing, the performance and the production are – let's be honest – impeccable. The first matter, that song writing, well, what about those compositions?... There is quite some variation in structure, atmosphere and speed, meaning a differentiation that denies boredom. The performance is evident, since all members involved are experienced musicians, and attended by a professional team of musicians / engineers. And about the latter, the production, I cannot but refer to the majestic importance of great studio professionals. The sound is clean, okay, and usually I detest a clinical production, but once again this is not that clinically polished sound à la [no names, to avoid lynch mobs, but Cradle Of Filth could have been named…).
Don't ask me why. As said, I detest catchy, commercial and / or poppy so-called extremities. But in this band's case, the professional song writing, the fabulous performance, and the whole atmosphere going on, make me conclude from another angle. Fans of low-profiled Extreme Metal must pay attention, but I dare to pretend that many adepts of the darkest underground might get attracted to this Sonic Art as well. At least, you can give it a try, can't you…?...