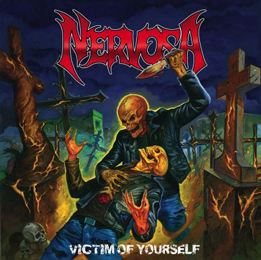 Release Date:
Friday, February 28, 2014
Nervosa is an all-female Brazilian trash metal band from Rio de Janeiro, Brazil,  release its debut album, "Victim Of Yourself" somewhere between February and March (depending on where you live).The all-female thrash band offers the listener the same high-speed riffs, furious drumming and raging leads like every "man band" would. The songs have a brutal and raw energy and are crowned by murderous hooks and aggressive vocals.
These lady's prove they can keep up with the rest, in some cases even better then the average trash bands. Only a few faults in the end production, but those are neglect able. It's just a shame there is so little info about these girls to be found. Definitely something to look out for.!!!