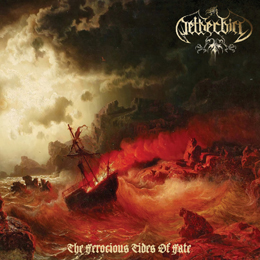 Album Title:
The Ferocious Tides Of Fate
Release Date:
Friday, November 29, 2013
Netherbird were formed in 2004 by Nephente, Grim (who left in mean time) and Bizmark. Despite almost a decade of existence, the band didn't really record that much material. With The Ferocious Tides Of Fate, Netherbird release their third full length album, which was recorded at the Scarecrow Studios, which are, just like the label the band is currently on, gathered within the Scarecrow Music Group. Anyway, the mix was done at Park Studio, and the mastering by Demonical's Sverker Widgren at Wing Studios. The line-up, for your information, on this album is: Nephente (v) and Bizmark (g), Tobias Jacobsson (b), Nord (g, v), and newly recruited drummer Nils Fjellström, whom you might know from his past or current activities in e.g. Aeon, Eldkraft, Dark Funeral, In Battle, The Wretched End, and more.
And I'll be honest: despite the decent intentions of the band, I have never been that much enthralled by Netherbird's music. The past showed a band that sounded way too catchy and predictable, with superficial and superfluous elements weaven into each single composition. So what about this new six-tracker?
Well, actually it is more of that sh*t, but with one very important evolution: the average quality of the tracks in general, and the whole album more specifically, is way more interesting. What does interesting mean? Actually, it still sounds catchy, yet less filled with clichés (beware: it does not mean original!). There's more variety, there's more persuasion, and the sound has been more 'deepened' and 'elaborated'. Besides, one cannot deny the cohesion of the album this time. The Ghost Collector, for example (the band's 2008-full album, released via Pulverised), wasn't but a collection of Cradle Of Filth / Dismal Euphony / Furia-rip offs (but as least as pathetic as the most pathetic songs ever done by those comparable formations). With The Ferocious Tides Of Fate, Netherbird sort of search for, and find, a certain balance in between innovation and prediction, and the pathetic anti-talented catchiness from the past has been traded for little more craft and persistence. The Ferocious Tides Of Fate is less pathetic, less cheap, less infantile than any past effort, and I do mean it.
But pay attention, don't start getting horny yet. Still it is an album with an exaggerated approach of catchy brain-satisfaction that will appeal to six-year-old Rock-babies. Of course I am slightly exaggerating, but this kind of Black Metal defines the opposite of the 'tradition'. But once again, if compared to the former recordings, this Netherbird-release is much stronger less childish than before.